UPR-Mayagüez gets $500K from Pratt & Whitney for aerospace industry projects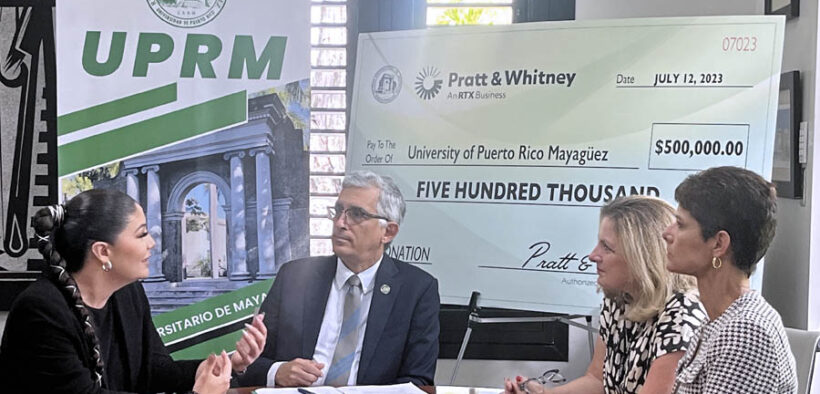 The University of Puerto Rico Mayagüez Campus, known as the RUM, received a $500,000 donation from Pratt & Whitney to establish a gift program for School of Engineering professors and students to work on projects aligned with the mission of Turbo Lab, which was inaugurated at the campus in late 2022, thanks to a $1.1 million contribution from the company.
"With this donation we enter a new stage in our relationship with Pratt & Whitney. At this point they have donated about $1.6 million to us," said Agustín Rullán-Toro, rector of the RUM. "The first funds we received, of $1.1 million, were focused on developing the Turbo Lab, which became the first aerospace center of excellence in Puerto Rico and the Caribbean. We already have the infrastructure, the equipment and the computers, and with these new funds we will focus on carrying out innovative projects."
"That leads us to a new type of relationship with the industry, which is where we want to be. We hope that the industry trusts us to give us money for academic activities that will eventually result in them having a better position, particularly in Puerto Rico," he said.
"This also opens more doors for our university graduates to have other opportunities to work in Puerto Rico, particularly in the aerospace industry that is experiencing incredible growth on the island," Rullán said.
Meanwhile, Josymar Acosta-Grafals, president of Pratt & Whitney Puerto Rico, who is an alumnus of the RUM's Department of Mechanical Engineering, added that the company aims to provide students with more tools when they enter the job market with this support.
"Now that we have the Turbo Lab, the second natural step is to maximize its use in a way that is industry-ready," she said. "We wanted to make this donation in a different way. Instead of us requesting specific research, we believe that the campus has the talent and creativity for them to propose their projects. Then, we will select the projects, after the proposals are submitted."
"We've always recognized the quality of RUM students, but for me it has an emotional side because I am a former student of the school. It's an honor to collaborate with my alma mater at this point in my career and to be able to help the next students have different experiences and arrive more prepared for the industry," Acosta-Grafals said.
Sheilla N. Torres-Nieves, chief investigator of the project and director of the RUM's Center for Aerospace Engineering and Unmanned Systems, explained that the letters of intent will be received in August and September with the aim of selecting eight to 10 projects for the invited proposals.
"It's open to any area related to the aerospace industry, but we are going to give preference to areas that are aligned with Turbo Lab's topics of interest, which are embedded systems and controls; gas turbines and advanced propulsion; and computational analysis and design," she said.
"This grant strengthens our partnership with Pratt & Whitney and allows us to make effective use of our recently inaugurated infrastructure. We want the selected projects to be able to make use of the instrumentation, computers, and programs, and to have direct access to the mentoring of company engineers," Torres-Nieves said.