Viandharina to produce, package locally grown harvests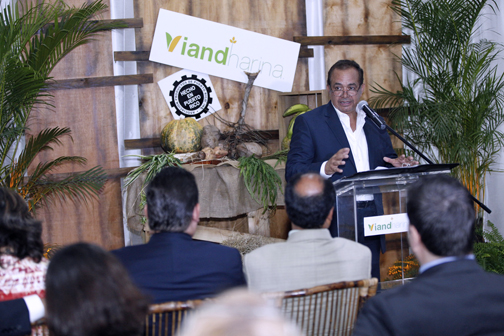 Viandharina, a new agro-industrial company based in Salinas, has opened for business in the south following a $1.6 million investment in a plant that seeks to substitute imports of several Puerto Rican food staples, including sweet and green plantain and breadfruit "tostones."
During a news conference at the plant located at the former Aguirre sugar plantation, company President René Soto-Torres said the goal is to "cut by 5 percent the importation of manufactured agricultural products, which mostly come from Central and South America."
He said close to 2.5 million pounds of frozen "tostones" are imported monthly, and another $400 million in manufactured agricultural products are imported annually.
Soto, who founded the company along with his daughter and CEO Margie Sánchez-Vega, said as many as 150 jobs will be created through Viandharina, since in addition to the processing plant, the company will employ people for the growing of starchy produce in 300 acres of land within its property, which will be used as raw material for the manufacturing of their products.
Likewise, the agribusiness will be responsible for the creation of up to 400 indirect jobs approximately, including transportation and distribution of its products, as well as on the farms from which the company will buy other agricultural produce to be manufactured under its brand.
"We're excited to know that our investment in this company represents, on the one hand, the opportunity for hundreds of heads of families to have a decent job that allows them to provide for their families," said Robert Cimino, managing partner of Viandharina. "On the other, that the Puerto Rican people will be able to consume products that are part of our culinary tradition, processed locally with great taste and nutritional value, and at a more attractive price."
Initially, Viandharina's processing and packaging plant — which is adapted to the new advanced technology trends of the currents market — will produce sweet fried plantains, and green plantain and breadfruit ("panapén") tostones, and subsequently will enter the market with other products based on locally harvested produce.
Among the vegetables and starchy products that will be used to manufacture new products and derivatives are: Ripe and green plantains, tarot root, sweet potato, breadfruit, pumpkin, and cassava.
Agriculture Secretary Myrna Comas said "it is important that consumers understand that by sponsoring and buying local products, they are helping to strengthen food safety in Puerto Rico. Every dollar that is invested in the purchase of local agricultural products contributes to create jobs in farms and in the production and distribution chain."
Plaza Provision Company and Plaza Food Systems, one of the principal distributors of consumer goods in Puerto Rico and the U.S. Virgin Islands, will distribute the products manufactured by Viandharina.