GSK volunteers help preserve resources at Piñones beach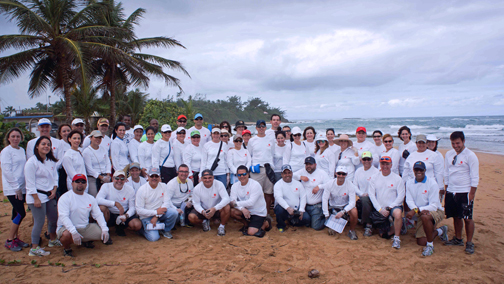 Some 60 GlaxoSmithKline employees recently partnered with Scuba Dogs Society and the Department of Natural and Environmental Resources to clean up Piñones Beach through solid waste collection.
The community initiative Orange Day collected more than 500 pounds of waste and about 300 pounds of debris.
The day was organized through GSK's annual day of service, known as Orange Day, which provides every GSK employee with a paid day off to volunteer in their community.
"We were thrilled to work as a team to help preserve the coastal environment so locals and tourists can continue to enjoy these beaches," said Yvonne McBurney, general manager at GSK.
McBurney noted the team's passion and commitment, which has worked over several months to select the type of volunteer event, identify environmental needs, and develop and implement the work plan.
"We care about the impact on the communities in which we carry out our mission of improving the quality of life of people," she added.
"Orange Day is part of the company's mission — to strengthen communities to help people do more, feel better and live longer," said Juan Arias-Camisón, general manager at GSK, speaking about an activity that has been carried out since 2009 in all countries where the company operates.
GSK's commitment to helping protect the environment extends well beyond its work cleaning up Piñones beach for Orange Day. The pharmaceutical's environmental sustainability strategy sets goals for the next seven years, including a 25 percent reduction in its carbon footprint, a 20 percent reduction in water use, zero waste to landfill, and almost doubling its mass efficiency — the efficiency with which it uses the materials in its new pharmaceutical products.