Walmart to buy $1.9M in paper goods from local supplier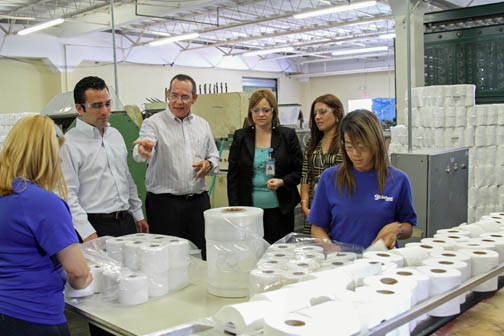 Walmart Puerto Rico announced Wednesday it has entered into a 12-month purchase agreement with local manufacturer Softex for $1.9 million in paper goods, which will substitute product imports, officials from both companies said.
The announcement was made at the Puerto Rico Trade offices, as the agency participated in the negotiations that will prevent Softex from closing and relocating its Morovis operations. Some 50 jobs have also been spared.
To accommodate the new influx of business, Softex will add a new 20,000 square-foot building to its current operation and create about 10 more jobs, company officials said.
"Softex has a long history in Puerto Rico. The acquisition by Walmart of these products represents the retention of 50 jobs, creating six to ten additional jobs and the addition of a 20,000 square foot structure to meet the additional demand," said Miguel Torres, sales manager for Softex.
"We're proud that our product will be on the shelves of every Walmart store formats in Puerto Rico. It is an example of how we can reach an agreement and work together so that the product will reach consumers through existing retail chains. And it shows that we can produce and make products accepted by our people," Torres said.
Francisco Chévere, executive director of Puerto Rico Trade, said the transaction between Walmart and Softex is "an example of what we have proposed as part of our agenda to promote the strengthening of our businesses."
"It is about identifying opportunities with local and international partners, as well as meet the challenges of competitiveness in our market," he said. "This is an example that other companies should emulate, which will undoubtedly help economic growth and job creation."
Through the agreement, Walmart Puerto Rico will substitute its "Great Value" private-label toilet paper purchases sold at its local stores. Softex's production will join more than 100 "Great Value" products already made on the island. Production at the Morovis plant must abide by the same quality and pricing standards established by Walmart, officials said.
"This procurement is part of Walmart's commitment to our customers to offer the best prices on quality products. The fact that it is a local product is something that adds to its appeal for Puerto Rican consumers," said Francisco Feliú, Walmart's corporate attorney.
"On the other hand, Walmart believes in promoting local production. For us it is part of our mission and social responsibility Puerto Rico,"  he said.