New aerospace center opens at UPR-Mayagüez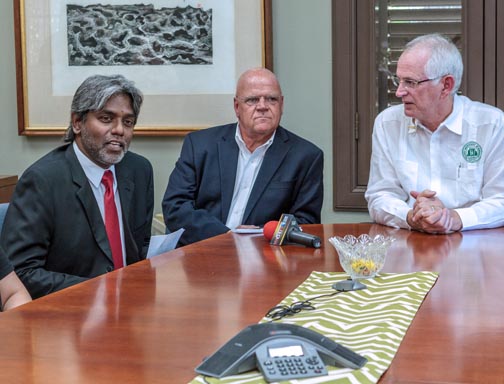 Infotech Aerospace Services (IAS) and the University of Puerto Rico in Mayagüez announced Thursday the creation of an Aerospace Center through a $115,000 donation from the company.
The funding will go toward setting up the new center at the University's Mechanical Engineering Department. The center will provide classrooms for engineering education and aerospace research laboratories.
IAS was the first aerospace company established in western Puerto Rico in 2003. The company currently has more than 800 employees at its aerospace technical services center in Isabela. It is expanding operations and will be hiring additional engineering graduates over the next two years.
IAS employees who are UPR-Mayagüez alumni lead the initiative to create the facilities that will include classrooms and laboratories specially dedicated to mechanical engineering education and aerospace research.
The IAS donation will also provide resources to the Capstone program, to give mechanical engineering undergraduate and graduate students the opportunity to conduct aerospace research at the campus.
"Puerto Rico has extraordinary engineering talent. We have witnessed this since 2003, when we started operations as the first aerospace company in the western region of the island," John Delametter, president and general manager of IAS.
"We currently have more than 800 employees, and more than 600 of them are engineering graduates, with the majority coming from UPR-Mayagüez," he said. "We are very proud of our employees and their strong commitment to give back to their Alma Mater, as well as to the communities where they live and work."
"This initiative will contribute to expand engineering education and aerospace research opportunities in Puerto Rico," he added.
UPR-Mayagüez alumni Gilmer Burgos, IAS senior business unit manager, systems analysis and software, and has worked at IAS for the past 10 years, said one of the most rewarding aspects of his job is being able to hire local engineering graduates and provide them with the opportunity to work on state of the art aerospace engineering projects.
"Our employees help to find solutions to some of the world's most advanced technological challenges, right here in Puerto Rico," said Burgos. "The UPR-Mayagüez Aerospace Center will make it possible for students to obtain specialized knowledge and research experience in the aerospace field, which will be very valuable after they graduate."
The Center for Research and Education in Aerospace Engineering will be designed to bring together industry and academic researchers, engineers and programmers to develop and test new aerospace systems in one place. It will have the mission to prepare engineering leaders with solid skills in aerospace engineering and science, school officials said.