Alemán: Banking sector pulling out of crisis, but still faces hurdles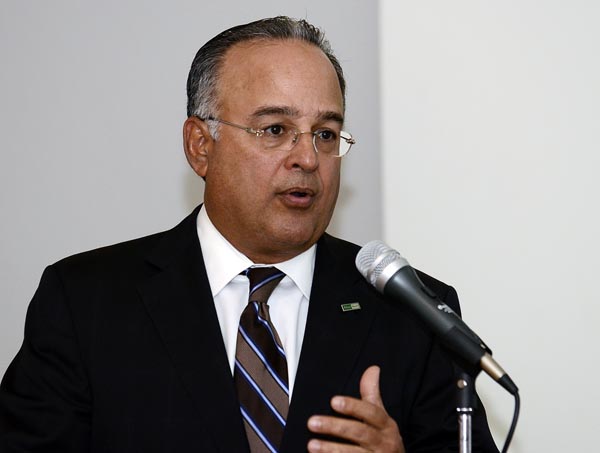 First BanCorp President Aurelio Alemán echoed Thursday what many other banking executives have been saying in recent months: the sector is slowly starting to pick up the pieces after the storm, but much work remains ahead for it to thrive again.
Speaking to the Puerto Rico Association of Financial Analysts, Alemán said there are still "many challenges that impact the industry that are economic, demographic, financial and social."
"The changes and financial losses the sector experienced from 2008 to 2010 can be considered the worst part of the cycle, and 2011 is considered a stabilizing year in which the industry will start to balance risks and return to profitability, but the outlook continues to be challenging due to the high level of non-performing assets," he told members of the trade group.
Those non-performing assets — bad loans — which as of June reached $3.9 billion industry-wide, have cost banks severe losses and drove several to close last year.
"Non-performing loans have an incredibly high cost on each institution's financial statement. Not only is it an asset that generates nothing, but it is an asset that is expensive to maintain because it takes money to work it," he said.
Alemán, who took over the helm of First BanCorp two years ago, presented a snapshot of the industry that puts total assets at $74 billion, loans at $58 billion, non-performing loans at 7.99 percent, and deposits at $38 billion.
"Puerto Rico is the only place in comparison to the rest of the U.S. where there are fewer deposits than loans. In the U.S. there are states where there is an excess of liquidity, which is why loan rates are so low," he noted.
Still, he said the industry is slowly turning the corner, particularly when it comes to stabilizing the bad-loan scenario, he said.
"I can feel the competitive environment today and I have to say that probably in the last six months banks have been looking for a way to lend more because they really need the revenue, and are looking to replace bad loans with good loans," said the CEO of the island's second largest consumer bank.
During his presentation, Alemán also discussed the possibility of more consolidations in the sector, which would again reduce the number of banks serving the island. While he did not go into specifics, he said "banks are all motivated to reach profitability, so they may consider transactions in the future."
"That may happen in 2012, sooner rather than later," he noted, making no mention of talk of a possible deal between FirstBank and rival Doral Bank.
On their path to recovery, however, financial institutions will have to deal with stricter regulatory changes that have been put in place at the federal level, including the Dodd–Frank Wall Street Reform and Consumer Protection Act — signed into law in June 2010 —  as well as crackdowns at Ginnie Mae and Fannie Mae that could significantly impact the local mortgage market, Alemán said.
"The truth is that the regulatory environment is not going to change because the economy has not changed and controls are required. However, some of the things that have been implemented could be reversed, but we don't know what other amendments may come through in Congress," said Alemán, who was elected president of the Puerto Rico Bankers Association in July.