Plaza Las Américas food court getting $5M facelift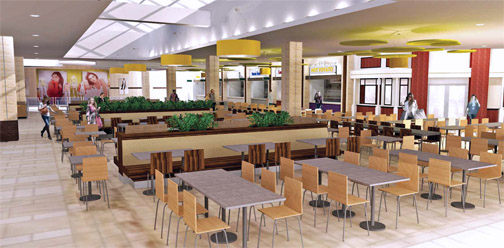 With a projected investment of more than $5 million, Plaza Las Américas will embark on a remodeling plan this summer of its popular food court, known as "La Terraza," mall operators announced Wednesday.
The project, expected to be completed in time for the Christmas shopping season, will generate 30 jobs and includes the following changes: removing and replacing floor tiles, removing existing columns, changing acoustic ceilings, installing a new skylight for natural lighting, changing lamps and other lighting elements, introducing new furnishings as well as decorative elements, and redesigning the access from the multi-level parking facility.
"Innovation in our commercial offering, customer service and attention have been part of Plaza Las Americas' winning formula from day one," said Franklin Domenech, general manager of the mall.
La Terraza comprises 21 restaurants, including casual dining options Sizzler and Chilis.
The renovation project will be in the hands of Constructora Santiago II, Corp, which will be working nights, after the mall closes to cause minimal interruption to customer flow as well as its commercial tenants, mall operators said.
This investment pushes to $40 million the amount that Plaza Las Américas has spent on improvements in the past three years, including remodeling the East side entrance, expanding the north and south side parking facilities, remodeling the corridors between JCPenney and Macy's, and the addition of new buildings for establishments.
It is estimated that these projects have created about 400 jobs during the construction phase and have given way to the creation of hundreds of new jobs with the opening of new stores, mall officials believe.