Anna's Linens continues Puerto Rico expansion with 3 new stores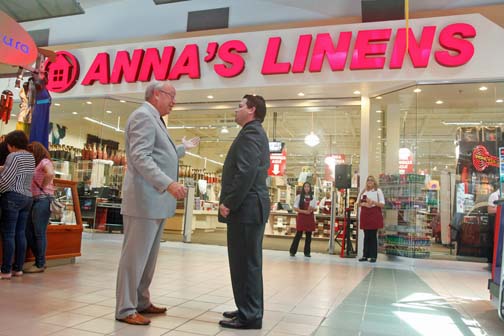 Home goods retailer and market newcomer, Anna's Linens, is following up "historic sales records" at its first two local stores with the opening today of three new locations in Caguas, Bayamón and Arecibo, company officials said Wednesday.
The California-based retailer made its local debut in May, with stores in Trujillo Alto and Ponce that held a four-day grand opening event producing sales more than 200 percent higher than the average grand opening, President Alan Gladstone said.
He added that the chain's 300th store at the Ponce Towne Center had the second highest performance ever during its opening event.
"Our first two stores in Puerto Rico have registered higher sales volumes than any other state or market where Anna's Linens has presence," he said. "These sales established precedents, as they surpassed our sales projections by almost 50 percent after the first month of operations."
"We're very grateful for the great welcome given to our concept, which offers an expansive merchandise assortment and great service to customers seeking out quality merchandise that is fashionable and affordable," said Gladstone.
That said, the retailer will continue its local expansion with the opening of three new stores today, said Anna's Linens District Manager, Hector Quiñones.
Each store entails a $2 million investment and will create between 28 and 30 new jobs. The Caguas store, located at the Plaza Centro shopping center, covers 10,610 square-feet. The Bayamón location at Plaza Río Hondo shopping center is 5,696 square-feet in space. The Arecibo store, located at Plaza del Atlántico shopping center, spans 11,733 square-feet.
"The successful sales history we have achieved should be maintained with the three new stores opening tomorrow. During our 25th anniversary celebration in October, we will also be celebrating the fact that Puerto Rico has already forged an important place in our history," Gladstone said.
As part of the today's opening event, Anna's Linens will offer the first hundred customers in line a free beach towel as well as one-day-only specials such as bath towels at $1.49. Quiñones said they will also run special promotions for two weeks following the opening events.
Meanwhile, Gladstone said that the retailer will open a total of 25 new stores this year, including the five local stores and 20 in the U.S. mainland. Two of the new stores will mark the retailer's expansion to St. Louis, Missouri.
As part of its new plans, Anna's Linens is considering the potential opening between four and five new stores in Puerto Rico during 2013.
"Thanks to the unique shopping experience we offer at our stores, we are certain that Puerto Rico consumers will continue to make Anna's Linens one of their favorite stores for purchasing home décor goods," said Gladstone.