Gov't announces 2nd phase of 'Abriendo Caminos'; $100M to repave PR-52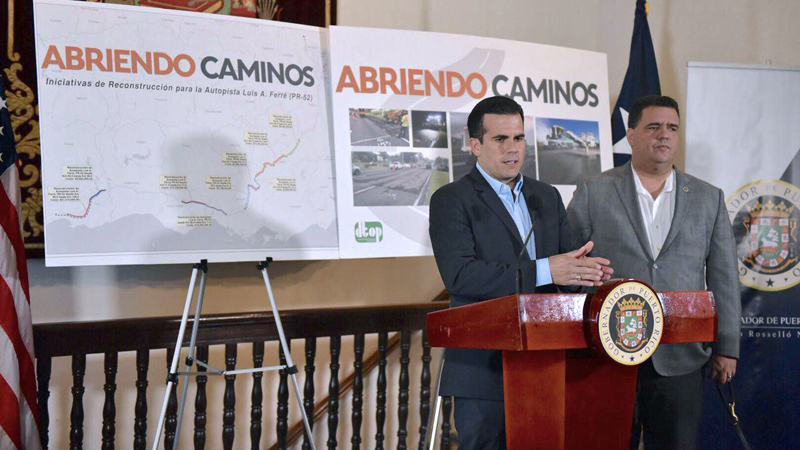 Puerto Rico Gov. Ricardo Rosselló announced the second phase of "Abriendo Caminos," a program to repair and maintain island roads, with an investment of more than $100 million in state and federal funds.
Following a bidding process, the chosen company will be able to immediately start repairing PR-52, known as the Luis A. Ferré highway.
This will be the second phase of the infrastructure project that began earlier this year with a $6.6 million investment in local funds to repair holes and concrete slabs from the intersection where PR-52 and PR-1 connect to PR-18 south to the Olympic House in Salinas, and within the Ponce town limits from PR-10 through the end of the PR-52 at kilometer 108, Rosselló said.
The initial project paved the way for major road repairs, as established in the "Abriendo Caminos" program that will be carried with higher quality materials and using techniques that will help roads remain in better conditions for longer, he said.
Reconstruction work between kilometers 49.0 and 52.3 has already been assigned, as well as work needed from kilometers 55.3 to 61.0, at a combined cost of $8.6 million.
The bidding process to repave the road between kilometers 66.0 and 71.6, and from 71.6 to 77.0, will be completed in August, through a total investment of $31.3 million in this first phase that is also expected to start this month.
In addition, the governor reported that the next step of the second phase of "Abriendo Caminos" carries an additional investment of $54.7 million. It consists of the reconstruction of kilometers 32.0 to 49.0 in the Guavate area, at a cost of $23.4 million; kilometers 52.3 to 55.3 for $4.4 million; kilometers 95.0 to 99.0 for $5.7 million; and kilometers 99.0 to 106.0 for some $21.2 million.
"This way, we will complete one of the most impressive road repair work project, with an investment of $94.7 million in federal funds and $6.6 million in state funds, for a total of $101.3 million," Rosselló said.
"Abriendo Caminos" is a program through which the government will invest more than $652 million in road reconstruction work that will run for the next two years to hit 20 primary roads, highways and urban primary roads.