AutoZone opens $1M 'Mega Hub' store in Carolina; 1st outside U.S. mainland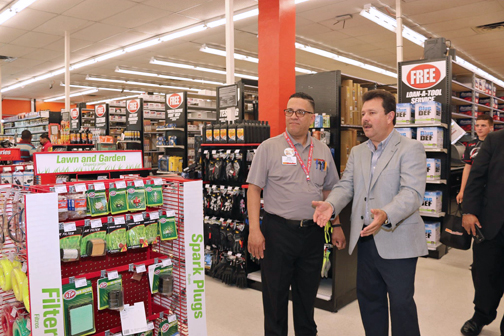 Retail and wholesale auto parts and accessories distributor, AutoZone, has opened a $1 million "Mega Hub " store in Carolina, marking a first of its kind for Puerto Rico.
The operation generates 50 new jobs and retains 15 existing positions, said Abner Colón, district manager for AutoZone's customer satisfaction division.
"Carolina was strategically selected to establish these facilities due to its excellent location and as a connection center to different parts of the island," Colón said.
"We're very excited to contribute to encourage this city's economy and employment, as well as in Puerto Rico," said Colón.
The opening of the "Mega Hub," the first outside the U.S. mainland, "denotes the trust that AutoZone and its managers have placed in [Carolina,] and represents a recognition of our city's potential as a place for new businesses. due to its continuous and growing economic development," Carolina Mayor José Carlos Aponte said.
The Mega Hub concept is a sort of intermediate between a large-scale distribution center and a commercial store, since it has an inventory five or six times greater than that of a conventional store.
Its operations are aimed at both retail sales for the general public, and wholesale, for auto repair workshops, automotive technicians, body shops, as well as car dealerships. The establishment will open 24 hours, and offers parts delivery services during the day.