Bankers Association opens call for 4th edition of financial education video contest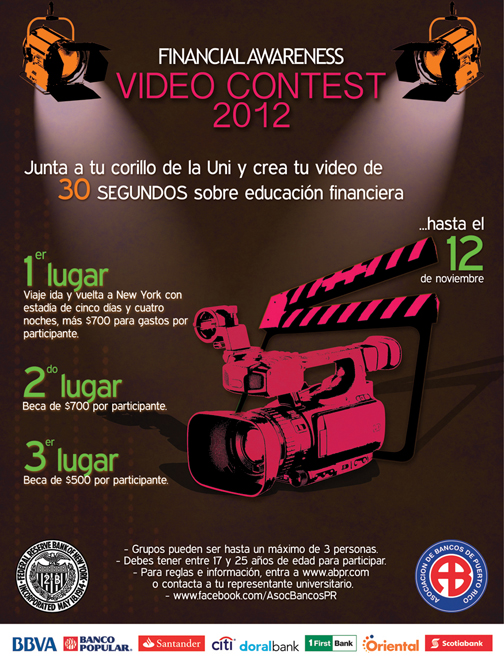 The Puerto Rico Bankers Association and the Federal Reserve Bank of New York, have opened the call for the fourth edition of the "Puerto Rico Financial Awareness Video Contest," aimed at promoting the creation of audiovisual materials that help educate and raise awareness among the island's young people on the importance of effective financial management.
"Both the Association and our colleagues at the Federal Reserve Bank are very excited about this new edition of the event, as we have had a growing interest in recent years," said Bankers Association Executive Vice President Arturo Carrión. "In addition, the quality and variety of the material submitted shows not only knowledge of the issues, but also a lot of talent and creativity."
In 2011, a total of 83 students from 10 colleges participated in the effort that resulted in the creation of 19 videos, the Association said.
The contest targets college students between 17 and 25 years old, who must develop an educational video about one or more financial topics, including: credit management, bank accounts, credit products, identity theft, and savings. Participants must focus on four main themes or scenarios: managing finances in your life; loans and credit (how to get the first credit experience); financial fraud; and savings as part of life. Students can focus on a single topic or a combination of those.
The first prize will be a round trip for five days and four nights to New York city, which includes a visit to the Federal Reserve Bank, and $ 700 for expenses per participant. Second place winners will receive a scholarship of $700 per participant and the third, a scholarship of $500 per participant. Participats can do so individually or in groups with a maximum of three people, including a professor as advisor.
Entries must be submitted by the Nov. 12 deadline. For more information and rules, visit a www.abpr.com or call 787-753-8690