Boricua Emprende Fest business education event returns Aug. 31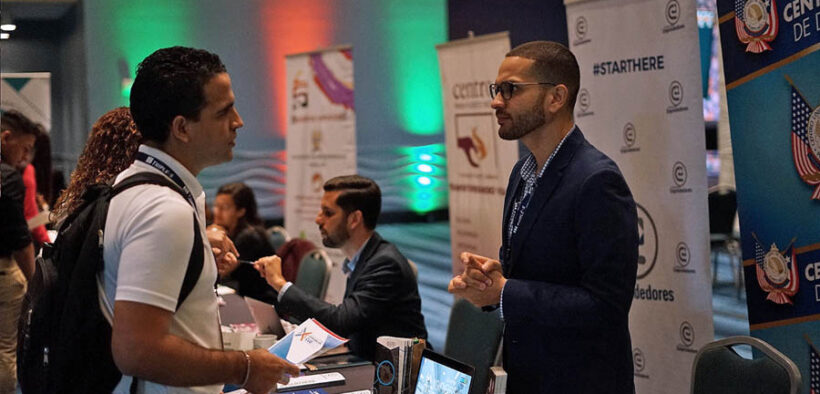 Colmena66, a program of the Puerto Rico Science, Technology and Research Trust known for facilitating the entrepreneurial process through its Network of Business Support Organizations, announced the fifth edition of the Boricua Emprende Fest (BE Fest) entrepreneur and business education event on Aug. 31, from 8 a.m. to 6 p.m., at the Puerto Rico Convention Center.
BE Fest is designed to connect people with the help they need to start or grow a business, create jobs and strengthen the economy. It targets a diverse audience, including entrepreneurs at all stages of business development, from all industries and sizes, the diaspora, academia, students, mentors, the public sector, financial institutions, investors and business support organizations.
The event will feature a variety of educational sessions and valuable resources for the approximately 1,200 entrepreneurs who attend each year.
The activities offered include:
Nine labs providing information on access to capital, marketing, creative industries and agriculture, among other topics with significant economic opportunity;
50 educational sessions with more than 100 speakers, experts in entrepreneurship;
Coffee talks, informal chats with experts while enjoying a cup of coffee, organized by Fase1;
Mentor Lounge, a space where entrepreneurs can receive guidance from mentors from various industries, led by Parallel18.
Also, visitors will have the opportunity to visit the Panal Expo, with more than 50 organizations and programs providing business support, including incubators, accelerators, access to capital, mentoring, academia and government, among others.
The event will also feature the BE Fest Networking & Celebration, dedicated for connecting and celebrating the business community on the terrace of the Convention Center, and a Suppliers Market for small- to mid-sized enterprises, where entrepreneurs can learn about legal services, accounting, marketing, management and other essential components of their business journey.
"Colmena66, Parallel18, Xpand, Fase1 and the [Small Business Innovation Research and Small Business Technology Transfer (SBIR/STTR)] federal grants are programs from our pillar of entrepreneurship, and since its inception in 2019, BE Fest has been the ideal platform to bring together entrepreneurs and the resources they need, whether to establish or grow their established businesses," said Lucy Crespo, CEO of the Science Trust.
"This in pursuit of advancing a prosperous and equitable economy in Puerto Rico, and the well-being of its citizens through innovation, science and technology-driven enterprises," she said.
The full event agenda, including topics and confirmed speakers, will be announced soon.
The project "strengthens the entrepreneurial movement in Puerto Rico, educates about business growth and development in all stages and industries, and fosters a diverse and collaborative community," said Colmena66 Executive Director Denisse Rodríguez.
"For us at Colmena66, it is crucial that people starting businesses in Puerto Rico have quick access to tools, knowledge and resources, and that's what motivates us, along with our sister entrepreneurship programs, to continue leading this event," she said.
'Status Report of Puerto Rico's Entrepreneurial Community'
Every year, Colmena66 produces a detailed report on the state of Puerto Rico's entrepreneurial community that uses qualitative and quantitative data to measure the impact and needs of the business and entrepreneurial community on the island, an estimated 5.6% of the population, according to the Global Entrepreneurship Monitor (GEM) Puerto Rico 2022. 
Just over a month before the celebration of BE Fest, Colmena66 has presented the results of its annual report, as the main information source to shape the event and respond to the real-time needs of the entrepreneur community.
To conduct this study, Colmena66 gathered representatives from various sectors of the business community to investigate existing gaps in the ecosystem. This helps in providing the necessary tools to design business support programs, draft and justify proposals to obtain competitive funding, create effective public policies to foster entrepreneurship, design curricula for workforce development, and allocate limited resources fairly and efficiently to the sectors that need them the most.
The report is based on information gathered during advisory sessions and an annual survey of 555 entrepreneurs (sample) and more than 70 organizations and business support programs. This year, the sample was expanded by 47% compared to the previous year (2021), in 74 out of 78 municipalities.
These data sources allow Colmena66 to answer questions, such as: Who are the entrepreneurs in Puerto Rico; what types of businesses are being developed; what is their impact on Puerto Rico; and what needs must be addressed to strengthen the business ecosystem?
This year, the report also highlights the entrepreneurial journey of four entrepreneurs and their companies, as well as the organizations that supported them throughout the process. The companies are: Aguas Frescas PR, Learningbp LLC, Molcajete Foods, and Insu Health Design.
Likewise, the report highlights three support organizations and their impact on the ecosystem: UPRi+c; Unlock Capital, a program of the Community Development Venture Capital Alliance; and Echar Pa'Lante.
Some of the findings were:
About 80% of surveyed entrepreneurs are individuals between 25 and 54 years old, with an 11-point increase in the 25 to 34 age group. Some 72% are women, and 90% of them have attained at least a bachelor's degree. A total of 62% of the entrepreneurs identified themselves as "business owners," while 38% said they were "developing a business idea."
The two main motivations for entrepreneurship in Puerto Rico in 2022 were "the desire to create something of their own" and "generate higher personal income," followed by "providing for their families" and "being their own boss."
The six most representative industries within the sample of the business community include creative industries, retail sales, restaurants and hotels, agribusiness, personal services, and manufacturing. Although there was a slight decrease in retail sales and agribusiness compared to the previous year. Most surveyed entrepreneurs (58%) defined themselves as "micro-entrepreneurs" or people starting a micro-enterprise that doesn't require much capital to start and usually doesn't need a physical location to sell the product. 
Half of the respondents mentioned seeing an increase in their income this year, and two out of every three are considering hiring employees. Like last year's report, most entrepreneurs are not exporting, but they have an interest in doing so soon. However, they indicate being unaware of the mechanisms and incentives to do it.
The main challenges reported in 2022 were the availability of seed capital, changes in operational costs, access to other types of private financing, government regulations and access to lines of credit. This varies according to the industry. Eighty-six percent of the surveyed individuals stated that they are using their personal savings to finance their businesses.
Among the outlined recommendations, the report suggests that collective efforts should be made to promote strategies for equitable and inclusive economic development focused on entrepreneurship. These strategies include: gaining a deep understanding of the business ecosystem to define common metrics and monitor efforts; disseminating data that facilitates decision-making; reducing barriers to entrepreneurship, which includes increasing access to capital and business education, streamlining the process of permits, and regulatory and tax compliance; and promoting an entrepreneurial culture.