Center for Creative Economy, Mellon Foundation invest $4M in salaries for music sector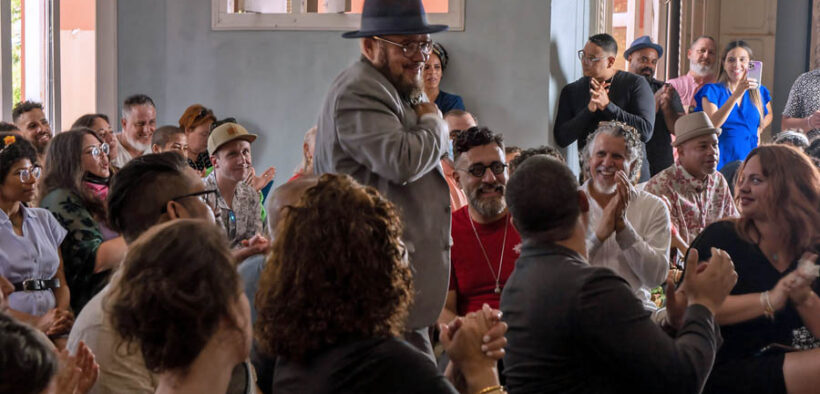 The Creative Economy Center (CEC, in Spanish) announced a $4 million investment for its cultural employment program, "Maniobra," this time to benefit 18 artists from Puerto Rico's music sector.
The project, which is possible through a grant from the Mellon Foundation, joins 40 other artists in the visual and performing arts throughout the Puerto Rican archipelago.
The Maniobra program provides stable employment opportunities for artists, which includes salaries, fringe benefits, a medical plan, an assigned budget to invest in their projects, and technical advice.
This time, the project extends to music, one of the sectors with the greatest talent and growth potential for Puerto Rico, nonprofit officials said.
Some of the artists that will participate in the program include Mima, Eduardo Alegría, Marién Torres, Henry Cole, Héctor "Coco" Barez, Charlie Sepúlveda, Lizbeth Román and Chamir Bonano, among others.
"Maniobra is a commitment to invest in our best creative talent through the minimum employment conditions that our artists should have. But it is also an invitation to other entities to support this wage justice initiative for our artists," said CEC Founder Javier Hernández-Acosta and current dean of Sacred Heart University's School of Arts, Design and Creative Industries
The selection process, which an advisory committee oversaw, identified artists and projects with a long history of cultural management and that will represent the diversity of practices and styles that abound on the island.
The Maniobra program allows artists to dedicate themselves to full time with the salary and benefits that correspond to their effort and production. It also provides a budget of $20,000 for projects and the contract will be extended for a period of three years to achieve financial stability and continuity in the projects.
"The Maniobra artists were selected based on their profile and career, ensuring diversity of gender, ages, geography, styles, stages of their careers, and their contributions to the environment." said Sonia Mendez, program manager at the CEC.
In addition to the selection of 16 artists, Maniobra will support two entities in Puerto Rico: Fundación Culebra and the Rafael Cepeda Atiles Bomba School, which will allow the hiring of young people who will be the next generation of musicians and cultural managers in their communities, as is the case of Exan Ortiz-Cepeda, grandson of Don Modesto Cepeda, founder of the school.
"We have achieved a combination that showcases the richness and diversity of our musical talent. Recognizing the extensive career of artists such as Papote Alvarado, Julie Laporte and mixing it with young talent such as Tanicha López, Amarilys Ríos, Andrea Cruz, Miosoti Alvarado, Christian Tonos, and Juan Riestra, to name a few, is a celebration of their work and a commitment with the future," Hernández said.
The list of participating artists includes Chamir Bonano, Julie Laporte, Andrea Cruz, Tanicha López, Charlie Sepúlveda, Eduardo Alegría, Juan Riestra, Yarimir Cabán "Mima", Amarilys Ríos, Ángel 'Papote' Alvarado, Marién Torres, Christian Tonos, Henry Cole, Lizbeth Román, Madelin Miosoti Alvarado, Héctor 'Coco' Barez, Escuela de Bomba Rafael Cepeda Atiles del Instituto Folclórico Puertorriqueño Rafael Cepeda Atiles – Exan Ortiz Cepeda, and Música pa' Culebra de Fundación de Culebra.