Coalition of islands bands together to face climate change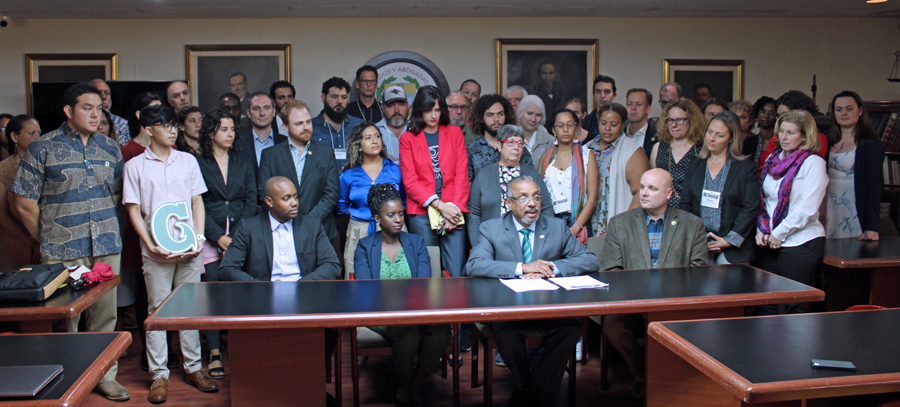 Island communities from the Pacific to the Caribbean are facing the climate crisis head on and uniting to share practices, resources, and identify ways to strengthen national policies and funding to support their efforts. 
At the second "Climate Strong Islands Dialogue" taking place in Puerto Rico this week, nonprofits, foundations, universities, and private sector discussed access to clean, reliable, and cost-effective energy, food security, and the value of U.S. island communities working together to respond to accelerating climate change.
Dozens of organizations across the nation have signed the "Climate Strong Islands Declaration" to highlight the particular needs and incredible potential of islands.
The Declaration emerged from nearly two years of discussions about the struggles and chronic underinvestment that many U.S. islands have endured over the past 50 years.
Correcting this historic inequity is a matter of basic fairness, as the world's islands have produced only 1% of the emissions that are heating the planet but are often already bearing the brunt of the consequences.
"Whether they are as remote as the Samoan islands or nearby Miami Beach, policymakers in Washington, D.C. must keep these communities front of mind and abandon a one size fits all approach to a wide array of policies and infrastructure investments," said Dawn Shirreffs, senior policy director for The Miami Foundation.
Nelson I. Colón-Tarrats, CEO of the Puerto Rico Community Foundation, said "when we take the time to understand the context of a community and philanthropically invest in it, we are empowering them to face their future."
"This is our example with the first solar community in the island – Toro Negro, Ciales – and what we are about to do in the municipal island of Culebra. We must make more flexible governmental policies allowing for communities to become more resilient," he said.
Laurie Schoeman, senior national program director for Resilience and Disaster Recovery at Enterprise Community Partner, said the impacts of changing climate and the growing threat of natural disasters are already being felt by islands like Puerto Rico and the U.S. Virgin Islands that have experienced the devastation caused by extreme weather events firsthand.
"We need to ensure that we build housing that is strong enough to withstand extreme weather events and adapt to a changing climate," she said.
Ultimately, adaptation is going to be "the great equalizer" for communities like the neighboring islands, said Deanna James, president of the St. Croix Foundation for Community Development.
"And, in the end, just like the systems philanthropy invests in with the intent of facilitating social change, our field will also have to build the courage and resolve to adapt and to lean into our own institutional evolution in order to support coastal communities into this radically changing new world," she said.