Resident Commissioner, Clinton Foundation join efforts for P.R.'s recovery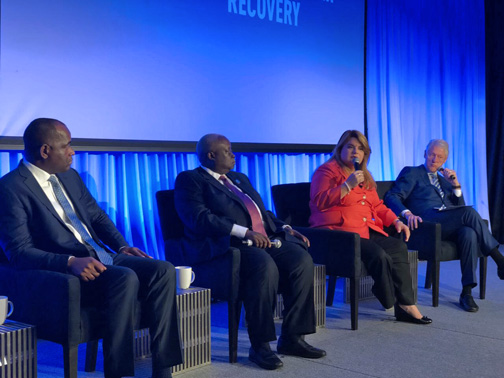 Accepting an invitation by former U.S. President Bill Clinton, Puerto Rico's Resident Commissioner Jenniffer González, participated in a forum hosted by the Clinton Foundation that seeks to join recovery efforts in Caribbean territories most affected by last year's hurricanes.
In the forum entitled "Clinton Global Initiative Action Network on Disaster Recovery" held at the University of Miami in Florida, Clinton joined several personalities to seek to put "ideas into action" in favor of the reconstruction and resilience of the communities affected by Hurricanes Harvey, Irma and María.
The commissioner participated in the morning panel that Clinton moderated, which also included U.S. Virgin Islands Gov. Kenneth Mapp and the Prime Minister of Dominica, Roosevelt Skerrit.
In her participation, González stressed the ways in which Hurricane María aggravated Puerto Rico's health problem with the exodus of doctors, and highlighted the achievement of obtaining funds for the financing of the Medicaid program for the next two years.
However, she noted that a final and final solution to the financing of the Medicaid program is needed in both Puerto Rico and USVI.
The commissioner called attention to the devastation María caused on the island and stressed that the priority continues to be the restoration of energy for all customers.
"We must improve our percentage of renewable energy production because we cannot sustain the payment of 30 cents per kilowatt hour," she said.
This is not the first time that the commissioner and the president have joined forces. Last November, Clinton held a roundtable with mayors of both parties at González's office in San Juan about the island's post-hurricanes recovery process.