Crunch Fitness to open 1st gym in Carolina this summer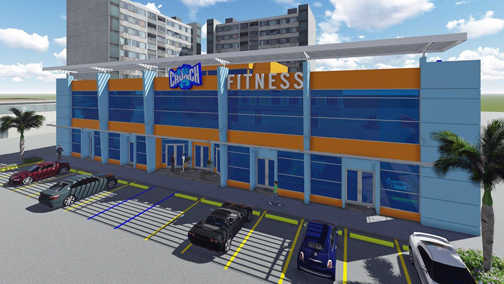 New York-based Crunch Fitness will open its first gym this summer in Puerto Rico, marking its official entrance into the competitive market with a location just outside Plaza Escorial in Carolina, company officials announced Monday.
The company will invest some $1.5 million to open the 20,000 square-foot, three-story fitness club that will create about 25 direct and 100 indirect jobs.
Entrepreneurs and spouses Pablo Acosta and Herminia Ortiz are bringing the franchise to the island and are already scouting locations for additional openings. Their goal is to "provide an exercise space where people can work on getting a better quality of life in a fun, non-judgmental and friendly environment."
"My wife and I decided to fulfill our dream to invest in the present and future of Puerto Rico and today we are thrilled to call ourselves proud owners of the Crunch Fitness Puerto Rico franchise," Acosta said.
"Our [island] needs more places where citizens can dissipate everyday stress and anxiety in a safe and healthy environment so they can work harder, confidently, and with determination despite of all the complicated situations that affect us," he said.
The future exercise complex will feature more than 70 cardio machines and free weights and will offer classes such as indoor cycling with more than 30 bikes. In addition, Crunch Fitness in Carolina will have a lounge studio where classes such as Zumba, Cardio Tai Box, Yoga Body Sculpt, TRX, and a Fitness Bootcamp, among others, will be offered.
All gym members will have access to "doFIT," an online nutritional program that allows users to monitor their nutrition and physical progress whenever they are not training at the gym. Additional offerings includes HydroMassage and tanning services, all through contract-free memberships starting at $9.95 a month, with no cancellation fees.
The Crunch Fitness expansion to the island is the franchise's first step toward exposing its brand in the Hispanic market, beyond the 88 fitness clubs it currently operates throughout the U.S. mainland and the world, which have a combined 300,000 members.
"We're very excited to work with Pablo and Herminia in Puerto Rico. They are some of the nicest people one could ever meet, they have a tremendous passion for what they are doing and are wonderful partners for our expansion in Puerto Rico," said Ben Midgley, president of the Crunch Franchise.
As a curtain raiser to its upcoming opening, the Crunch Fitness team will conduct a membership pre-sale event this Saturday.