Crunch Fitness launches 'Crunch Cares' to support PR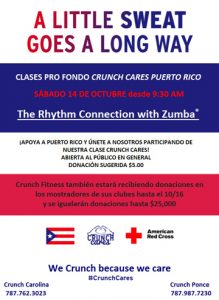 As part of Puerto Rico's support and recovery efforts following Hurricane María, Crunch Fitness is kicking off its new "Crunch Cares" program, which will feature franchise clubs in the United States and Puerto Rico.
"We have decided to start the fundraising initiative 'Crunch Cares' for relief in Puerto Rico by honoring our Crunch family in Carolina and Ponce and to help support the entire island that has been affected by this extreme devastation," said Ben Midgley, CEO of Crunch Franchisees.
"From our hearts to yours, we hope everyone will participate," he said.
For this initiative, Crunch Fitness will be raising funds for the American Red Cross of Puerto Rico through a group zumba class, which will be offered in Carolina and Ponce clubs on Oct. 14 at 9:30 a.m. To participate in the class that is open to the general public, people must register and pay a suggested $5 donation.
In addition, Crunch will also be receiving donations at their club counters until Oct. 16 and will match donations up to $25,000.
"Crunch came to Puerto Rico to transform the way we exercise, achieve health, physical goals, give joy and have fun, as well as to be an instrument of social welfare," said Pablo Acosta, general manager of Crunch Puerto Rico.
"Crunch is Puerto Rico, and we have a commitment to work for our people. Crunch Cares was born in Puerto Rico and this initiative will continue to grow through our people and for all of those that Puerto Rico always helps. Our hearts are with our people and we will continue to work for you," he said.