Decentralized-identity startup Intuition raises $4M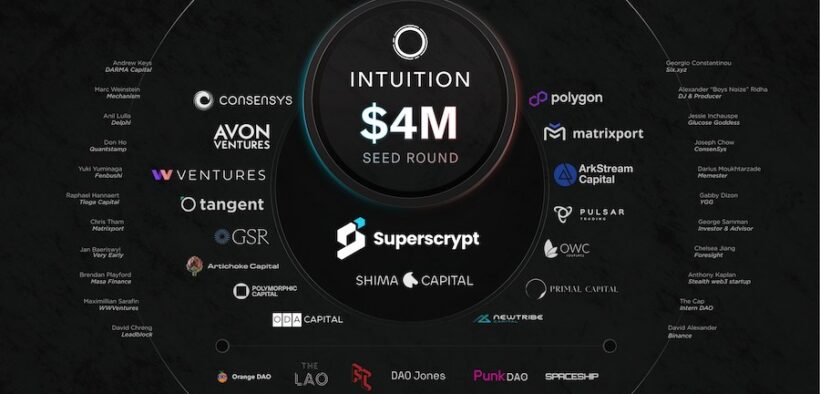 Decentralized infrastructure provider Intuition has raised $4 million in a seed funding round led by Superscrypt. The fundraiser comes as Intuition approaches the public launch of its protocol and first applications later this year.
Intuition allows users to create corroborations about any subject, storing the information in such a way that it is easily navigable and leveraged by other applications.
Intuition's founder, Ethereum veteran Billy Luedtke, explained that the protocol was created to "capture the wisdom of crowds about everything, while making that wisdom available and open to everyone."
"Today, determining truth to make informed decisions is a complex and difficult task," said Jacob Ko, partner at Superscrypt. "Information is largely concentrated in big tech platforms, search and curation algorithms are opaque, and identity and reputation standards are too fragmented to provide strong signals. Intuition's approach of incentivizing crowdsourced knowledge and opinions from users in a globally inclusive and decentralized way will fuel better understanding of any person, ID or topic. It has the potential to change the way we disseminate, consume and understand information and we're excited to back a team with deep experience working on data interoperability and digital identity."
Other participants in the round include Shima Capital, Avon Ventures, WW Ventures, Matrixport Ventures, Polygon Ventures and ConsenSys, along with several other venture capital, Decentralized Autonomous Organization and angel investors. This round follows a fundraising event held last November co-led by Andrew Keys, founder of DARMA Capital, and Joseph Lubin, co-founder of Ethereum and founder of ConsenSys.
While decentralized identity has largely focused on high sensitivity credentials, such as KYC — or "Know Your Customer," a process used by financial institutions to verify the identity of their clients — and the identities of people, Intuition facilitates a decentralized identity that pertains to all things.
"Nearly everything can and should have decentralized identifiers (DIDs)," Luedtke said. "Whether that's a person, pseudonym, web3 product, organization, or even a news article. We presently rely on a fundamentally flawed system of siloed, centralized platforms such as Yelp, LinkedIn and Twitter to inform our intuition about the world around us. These platforms shape our perception with fragmented, incomplete and occasionally misleading information."
As part of its protocol, Intuition does not take into consideration whether something is true or false, but instead captures and shows what people are saying about a particular subject. By allowing people to freely share their opinions about any subject, and verifiably attaching that data to DIDs in an open knowledge graph, Luedtke said he hopes to improve the reputation and identity data that "we societally have access to regarding the things we're interacting with every day."
Alex Lin, the head of Research and investor at Shima Capital added in the press release that people's "digital identities form the bedrock of a flourishing data-driven economy and society," but "the vast reservoir of digital knowledge on the internet still exists in a disparate and incomplete state.
He explained that, "for a future free from these fractured conditions, we require purpose-built infrastructure that fosters the creation and seamless access to consolidated, trustworthy and permissionless information. Anchored by an exceptional team, Intuition harnesses web3 primitives to align ownership and incentives, driving forward this transformative vision. I am thrilled to support their journey towards this exciting future."