Depto De La Comida to focus on restaurant at new venue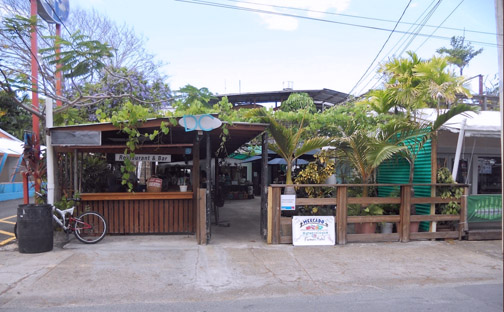 When opportunity knocks on the door, they say one should answer quickly, which is just what a popular San Juan food business, with a big role promoting Puerto Rico's organic agriculture, has just done.
After five years in Miramar's El Gandul sector, El Departamento De La Comida — a farmers' market and eatery — has moved its operation to Punta Las Marias where it now occupies a 1,800-square-foot space very different from what was its base of operations until recently.
In carrying out the move from its iconic 3,500-square-foot Miramar warehouse, owner Tara Rodríguez has downsized the operation to concentrate more fully on the vegetarian/vegan restaurant side of the business, a move she said responds to consumer demand.
"I did not anticipate leaving Gandul, I loved (that area)," said Rodríguez , during an interview at her new al fresco location, a breezy tree and plant-filled garden with a large bar area that serves smoothies but no alcohol, metal tables shaded by blue beach umbrellas and open-style roofing of wood planks and plastic panels for a casual aesthetic.
The locale, which used to be the patio of a restaurant called The Garden, is located next door to the long-standing Che's Restaurant.
Rodríguez said when the opportunity for the new location came up unexpectedly, she met with the owners of the Miramar warehouse she rented.
"They are people who have given us a lot of support," she said, adding that she intends to hold on to the rental warehouse for now and put it to a new use, probably food-related. As spacious as her former venue was, Rodríguez found that too much space went wasted whereas the new location is "more comfortable." She also got a good price on the rent and that clinched the deal.
Although Rodríguez is tweaking her business model to concentrate on the restaurant side, El Departamento will continue to sell to clients the fresh, organic agricultural products she gets from the 15 to 20 farms that supply her on a weekly basis. The restaurant's menu features dishes prepared exclusively with locally grown products supplied by some of these and other farms, she said.
"There isn't a restaurant in all of Puerto Rico that relies exclusively on Puerto Rico harvests," she said, noting that only 10 percent of her purchases represent non-local products, such as olive oil and compostable cutlery. El Departamento employs 10 people.
Five years of success
Running a kitchen was not part of the original plan when Rodríguez started out some five years ago with $10,000 in working capital borrowed from a friend so as not to deal with either government or banks. Back then, the idea was to serve as a distributor of farmers' products delivered directly to clients or deposited at specific locations throughout the city for clients to pick up on their own.
Working out of a warehouse in the Barrio Guaraguao in Bayamón, Rodríguez soon found that this location was too distant from clients and in scouting for a new base found a welcoming home in Miramar's Barrio del Gandul, an area also known as Tras Talleres.
A user of social media to grow her business, Rodríguez would often share information about the farmers' products sold at the store and how they could be used in versatile recipes. Soon, her clients were urging her to open a kitchen, which, in time, she finally did, setting up an eating area in a section of the warehouse.
Through the years, El Departamento has become an important source of income for organic farmers. Rodríguez said she sells between $12,000 and $15,000 in farm products each month, two-thirds of which goes to the farmer while the balance contributes to supporting her business. Typically, farmers earn 20 cents on every dollar but "we do the opposite and two-thirds goes to the producer."
Her commitment to ecological farming and to educating the public about the vital role that good-quality food plays in a person's health has earned Rodríguez a devoted, faithful following. (That sense of mission also led her to set up a nonprofit sideline dedicated to promoting organic agriculture through events and education.)
Thirty percent of clients are people who stop daily by the store, either to shop or eat a meal; another 20 percent are people who come every couple of weeks; the rest are new visitors and tourists. The new locale "will help to diversify the clientele," she said.
The changed focus, according to Rodríguez, reflects the ever-changing character of a business.
"Since its beginning, El Departamento has been evolving," she said. "It's always been an ongoing project, like our lives, it goes on changing."