EDB announces $8.2M in support for local businesses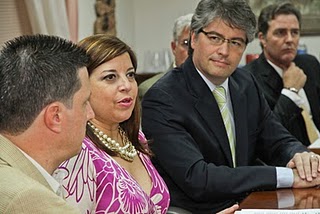 Agriculture Secretary Javier Rivera Aquino, EDB President Lizzie Rosso,
and Tourism Co. Executive Director Mario González.
The Economic Development Bank announced Sunday the approval of $7.2 million in loans — and a $1 million revolving credit facility — to help a trio of local businesses develop and keep their businesses going.
During a news conference on Sunday, EDB President Lizzie Rosso outlined the terms of the loans, while urging small- and mid-sized businesses to seek help from the agency, private banking and cooperatives to avoid bankruptcy.
The first of the two loans — for $3.5 million — went to BlokBuilders Inc. to construct a 21-room boutique hotel in Vieques. The Blok Hotel is slated to open in January 2012 and will feature a restaurant, a bar, a 1,200 square-foot meeting room, a panoramic deck, and 10 parking spaces. The hotel will be affiliated with one of the principal hotel marketing and reservations organizations worldwide, she said.
Tourism and agriculture are two sectors the EDB has identified as having growth potential and need for financial support. The approval of the Blok Hotel's loan also responds to the EDB's previously stated goal of supporting tourism development in the island municipalities of Vieques and Culebra.
Meanwhile, the agency also offered details of a $3.7 million loan granted to Bloom Produce Inc., a farming operation dedicated to harvesting a variety of hydroponic vegetable crops. Peppers — cubanelle, green, red, orange, and yellow — several varieties of tomatoes, lettuce, herbs and berries are all on the list of edibles to be harvested and marketed under the "Bloom" brand, Rosso said.
The financing will cover the construction of nearly 46,000 square meters of nursery facilities on a farm in Vega Baja leased from the Puerto Rico Lands Authority, Agriculture Secretary Javier Rivera Aquino said.
During the news conference — the second consecutive one the agency has held on a Sunday — Rosso also offered details of a $1 million revolving credit facility granted to Vasallo International Group, to cover operational expenses for a year, as the Ponce company navigates through Chapter 11 bankruptcy.
"This company, a leader in its industry, is a true example of the hundreds [of companies] that have faced serious financial problems due to the recession the island's economy has lived through in the last decade," she said, adding the credit line is renewable.
The 50-year-old plastics manufacturer filed for bankruptcy in November 2008 after racking up more than $40 million in losses associated with the purchase of the money-losing New York Syracuse Ornamental Co. in 2004. Vassallo closed down Syroco in 2007 and continues to produce some 3,000 plastics-based products, including pipes, chairs and kayaks, which it exports to Mexico, Canada and the Americas.
"With a serious reorganization plan and the help and will of the EDB, private banking and cooperatives, they can move forward, be more successful than in the past and capitalize on the billions the government is injecting into our economy, especially infrastructure," Rosso said, urging other companies to seek help to save their businesses and spare job losses associated with a bankruptcy filing.