EDB chief to step down at end of month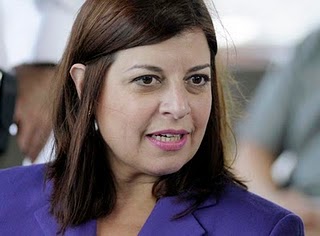 Lizzie Rosso  (Credit: © Mauricio Pascual)
By month's end, the government's two banks will see a turnover at the helm.
On Thursday, Economic Development Bank President Lizzie Rosso announced she will be stepping down effective March 30, coinciding with the end Carlos García's tenure as president of the Government Development Bank.
Rosso, who a little more than two weeks ago held a news conference to offer a rundown of the EDB's achievements since she took over the helm in January 2009, said she will be returning to the private sector.
On the heels of her announcement, Gov. Luis Fortuño issued a statement, commending Rosso's work at the agency.
"As president of the EDB, Rosso always worked for the welfare and improvement of the island's economic development. We appreciate her leadership and direction, and compliance with fulfilling the public policy that this administration promised in terms of economic development," said the governor, without disclosing who will succeed Rosso.
When Rosso assumed the job of EDB president, she said she found a $16 million deficit, which she claimed to have turned around through a series of cost-cutting measures. The public agency responsible for providing financing and guarantees to local start-ups reportedly approved 260 loans worth $88.8 million during the first six months of the current fiscal year, ending 2010 with net income of $9.5 million.
"We successfully addressed the banking reinvention needed to tackle the hard times the Puerto Rican banking sector is experiencing," said Rosso. "I am glad to have been able to stabilize the bank's finances and redirect the programs to achieve the success with which we hand over the institution today."
Prior to accepting the job with the Fortuño administration, Rosso was a banking executive, holding posts at a number of local financial institutions, including Doral Financial Corp.