EDB, UPR join to light entrepreneurial spark in students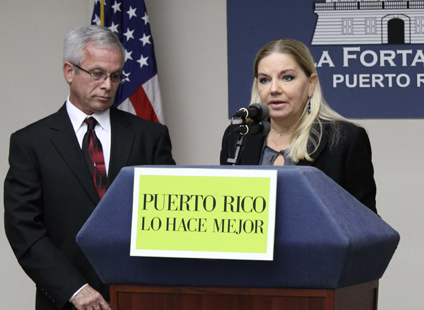 Economic Development Bank President Ivonne Otero and University of Puerto Rico President Miguel Muñoz unveiled Tuesday the "University Entrepreneurship Movement" program, a new initiative that seeks to promote an entrepreneurial spirit among college students.
The inter-agency effort consists of 11 orientation sessions to be held at all of the UPR's campuses starting in January, Otero said during a news conference Tuesday at La Fortaleza.
"[This program] was created to reach those areas not previously addressed," Otero said. "Students are central to our development. It is imperative to cultivate an entrepreneurial culture in young people, who are the future of Puerto Rico."
The University Entrepreneurship Movement program will provide students all of the tools they need to develop a business plan, the process of applying for the EDB's college loans and the tools to become a successful entrepreneur, among others.
The first UPR campuses that will host the University Entrepreneurship Movement, starting in January are: Utuado, Mayagüez, Río Piedras and Bayamón.
"Our goal is to appeal to the development of an entrepreneurial culture and facilitate the information and application processes. For this reason, after completion of this movement through the universities that comprise the UPR system, we will be doing the same with private universities," she said. "We are in communication with the presidents of private universities and they have been very receptive."
The EDB's college loan program provides a financial source to recent graduates or students about to graduate, to establish their own businesses. The working capital loan up to $35,000 gives students, who often have no prior credit experience, a chance to set up their own business.
Some of the eligibility requirements are: students must be 21 years old, have a minimum GPA of 2.50 and have completed or about to complete a bachelors degree from an accredited university. The loan must be repaid in seven years and grants a moratorium on the principal and interest for the first six months of the financing term.
"Through this initiative we're looking to promote the development of new entrepreneurs and provide a unique opportunity for our students to develop new businesses that contribute to economic development and job creation," the UPR's Muñoz said.