Il Forno Enoteca, the successor to Al Dente, opens in Caguas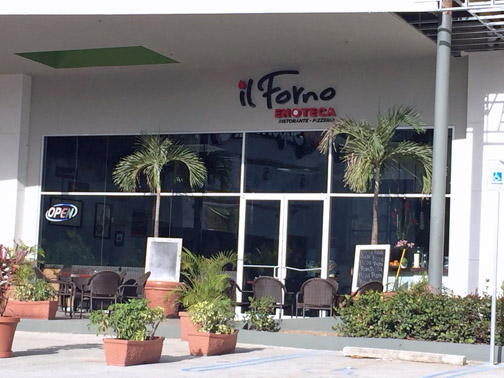 A new Italian eatery opened in Caguas a little more than a week ago by the owner of a restaurant that was a landmark in Old San Juan until last year.
Il Forno Enoteca, the newest concept from Giancarlo Amenta — who ran the Al Dente Ristorante restaurant in the historic city for 28 years until August 2017 — is now seeking to attract a crowd of former regulars and new patrons to his 2,500 square-foot establishment in the Villa Blanca Industrial Park, off Highway 52.
Il Forno Enoteca sits between 80 and 90 customers, and offers an authentic Roman-style Italian pizza and pasta menu at reasonable prices.
The restaurant features the island's only revolving pizza oven, which Amenta said bakes pizzas in less than two minutes, with a full-on crispy crust. The equipment is by a Neopolitan stateside company from the U.S. mainland, which averages about 750 degrees.
"We're looking to bring a new concept of service and Italian cuisine to Caguas. I think Caguas offers an opportunity to appeal to people who are looking for new things. I don't see anything Italian here, plus we're also appealing to Gurabo, Las Piedras and San Lorenzo," he said.
"Many people who live around here who are used to going to the San Juan metro area, and I also had customers in Old San Juan who were from these parts," he said.
The establishment also features a 1,200-bottle wine cellar and a private area for meetings and group events.
"We want to appeal to area pharmaceuticals and companies in Caguas who would like a private area where they can spend time with their employees," he said.
While the restaurateur refrained from revealing how much of an investment was made in the new eatery, he did confirm the creation of about 30 jobs. "When I took over this space, we had to build everything from scratch."
When asked about the radical move from one town to another, Amenta said the reason for choosing Caguas was the "welcoming" environment to do business, and cooperation from the municipal government.
The restaurant took nearly a year to build, based on research that lead to Caguas, he said.
"The municipal government here works very differently from the San Juan metropolitan area, but I am extremely surprised in the way that this area works," he said. "People here actually apologize to you for taking longer than necessary to get papers and licenses."
He said despite the island's economic troubles, he said he is not worried about the future of his new restaurant in Caguas, as opposed as to the problems he faced in Old San Juan.
"The problem was with the central government, which for any reason would close down streets. I don't blame the municipal government at all," he said. "But we left before the hurricanes hit last year, because we could see problems coming."
This slideshow requires JavaScript.