Science Trust opens call for entries for 'Virtual Reality Summer Camp'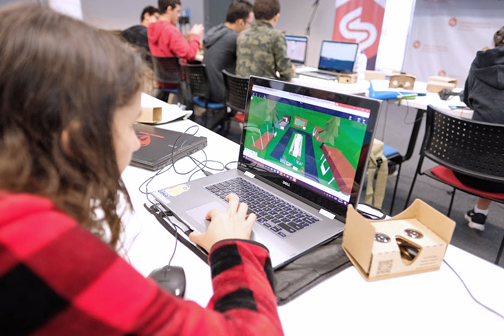 For the second consecutive year, the Puerto Rico Science, Technology and Research Trust will host a free Virtual Reality training camp (VR) aimed at high school students from 7th to 12th grade, the nonprofit announced.
The workshops offer a curriculum developed by AprendeVR that includes learning to make 3D models and creations in virtual reality and augmented reality, as well as learning to build immersive worlds and virtual reality games.
In addition, participants will have the opportunity to try the most sophisticated headphones such as the Oculus Rift and HTC Vive, the organization added.
The camp will be offered in four, five-day sessions during the summer. The first two sessions will be offered in San Juan, while the other two will be in Mayagüez. The schedule is as follows:
May 28 to June 1, for students through seventh and ninth grades (San Juan)
June 4 to June 8, for students through tenth and twelfth grade (San Juan)
June 11 to June 15, for students through seventh and ninth grades (Mayagüez)
June 18 to June 22, for students through tenth and twelfth grade (Mayagüez)
The 24 most outstanding students of all sessions will be selected to participate in the Advanced VR Course, July 9-13 in San Juan.
In the advanced course, students will have the opportunity to put into practice the knowledge acquired from the previous bootcamp and learn how to use Unreal Engine, a professional game development software and virtual reality developer.
To participate, those students interested must complete a form on the nonprofit's page on or before May 11. Due to the limited space, participants will be chosen by a committee and will be notified prior to the start date.
No previous experience is required, and it is not required to have a computer or cell phone to participate in the workshops.