FirstBank acting on cleaner balance sheet to push growth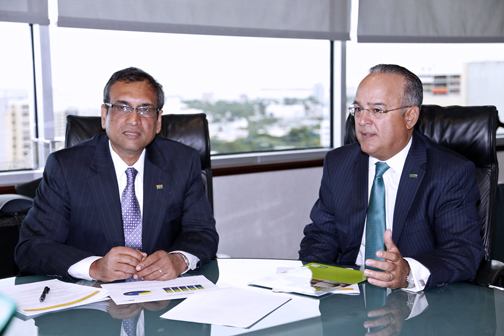 On the heels of a good third quarter, FirstBank executives are looking to capitalize on a "cleaner balance sheet" to continue strengthening and growing its franchise on all fronts in Puerto Rico, the U.S. Virgin Islands and South Florida.
In an interview with News is my Business, FirstBank CEO Aurelio Alemán said maintaining the bank's standing in its mortgage loans and credit card business lines will require investing and putting it all out there with aggressive promotional efforts.
"We just announced a good quarter in terms of earnings resulting from spending a significant amount of time cleaning out our balance sheet and moving out non-performing loan legacy assets," he said. "We are Puerto Rico's second-largest bank and we achieved that position through a lot of effort and sacrifice."
"Puerto Rico continues to be our territory, but we also have many opportunities in Florida and a very solid franchise in the USVI, so we'll continue with our three-geography strategy," he said, of the financial institution that marked its 65th anniversary this week.
In Puerto Rico, that plan calls for investing about $5 million to build a new branch on R.H. Todd Ave. in Santurce, as well as a financial center in Caguas, which should be ready during the first half of 2014.
Two other areas where it is placing its attention are its credit card and mortgage businesses, both of which have been the subject of major transactions for the bank. About a year ago, First BanCorp wrapped up the purchase of a $402 million branded consumer credit card portfolio from FIA Card Services, N.A., through which it was able to take over the control of the portfolio, Cassan Pancham, executive vice president and business group director for FirstBank said.
"This means that we're able to deliver the credit criteria to originate and approve [applications]. We know our clients better than somebody in the states, which is critically important and generates a lot of opportunity for us," he said. "We have control of the product set that we can deliver and we have control over the loyalty program, and this is something we're very excited about."
As part of its strategy to expand its credit card portfolio, FirstBank is looking to lay the groundwork to offer an array of value-added features to its clients, ranging from cash-back to airline ticketing and travel, Pancham said.
"We're also working rapidly to develop a broader base of local merchants and we're working directly with MasterCard and Visa to deliver value directly to clients," he added. "What we're able to do now is deliver products that will fit the lifestyles of the segments in our Puerto Rico client base."
Pushing through shrinking housing market
As for mortgages, FirstBank has been pushing through a housing market that has been shrinking to increase its share by implementing strategies to stabilize and improve asset quality and cut the time it takes to approve applications.
"We've made policy changes and took advantage of some opportunities that arose from asset sales, such as freeing up resources that we can deploy toward additional investments in the business, which we've done. We've also cut cycle times by half, getting decisions and closings done quickly to provide the best value and interest rates to clients," Pancham said.
Two years ago, FirstBank held a 6 percent market share in mortgage production — a figure that has jumped to 15 percent currently.
"We're continuing to look at ways to increase. It's no accident that we're at that point today," he said. "In the mortgage business, everybody has the same interest rates. The only differentiating factor here is service and closing times."
FirstBank is averaging about 25 to 35 days to close mortgage loans. In terms of service, the bank has been working closely with its staff to make sure they are able to lay down all available options to clients as they move through the applications process, Pancham said.
Looking ahead
Looking ahead, FirstBank has also been making adjustments to respond to new regulations that the Consumer Financial Protection Bureau will effect in January 2014 that tighten up the requirements under which banks can qualify consumers and approve their mortgage loans.
"We expect that this is going to have some impact on the mortgage activity in the marketplace. We believe that loans should only be given to people who qualify for that — there are going to be qualified people who will be left out but over time industry will adjust to that and find a solution," he said.
Meanwhile, Alemán said the housing affordability issue is something FirstBank has addressed at "many forums" and is working on with the Mortgage Bankers Association and the American Bankers Association, "and we're still going to continue to try to get certain considerations in the market."
Last week, the Puerto Rico MBA warned about what they say could be a potentially bad situation for the island's housing market, which has traditionally favored homeownership over renting. Local banking executives are in Washington this week to state their case before the CFPB.
Local banks, including FirstBank are looking toward government-sponsored programs and the secondary market program to somewhat mitigate the new mortgage regulations kicking in next year.