FirstBank funds Luis Muñoz Marín Foundation grants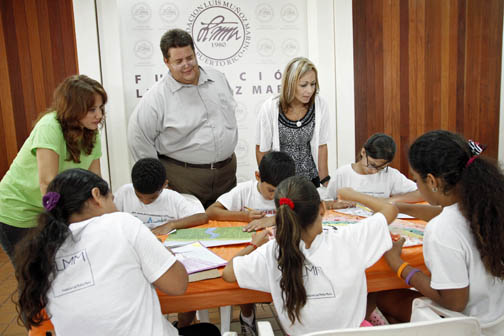 The Luis Muñoz Marín Foundation recently received financial support from FirstBank Puerto Rico to be able to offer its environmental awareness and leadership workshops to several underprivileged children and youth between the ages of seven and 14, who had the chance to gain knowledge and experience that will likely help them later in life.
The nonprofits workshops focused on nature-based themes, such as recycled art, craft games, bird watching, river and forest sciences, farming and gardening language, creating compost and recycling stations, environmental talks and educational films, among others.
The Foundation also offered the "Creactivo" workshop, an intensive program in the areas of fine arts, emotion management, leadership and risk behavior prevention. The program offered young people the opportunity to develop their artistic talents through acting workshops, dance, theatrical makeup, stilts, script writing and painting, among others, and at the same time develop their emotional intelligence, to learn to channel and manage them in an assertive manner for themselves and for their environment.
"The importance of protecting the environment and the arts are an essential part of the formation of man and society, and that is why in FirstBank we're proud to be able to contribute to the development of the talents of our children and youth. In this way, we promote cultural development and healthy lifestyles," said Catherine Ríos, FirstBank's community reinvestment officer.
Thanks to FirstBank's contribution, the Luis Muñoz Marín Foundation was able to welcome low-income youth from the San Juan metropolitan area to the project, said Julio Quirós-Alcalá, executive director of the nonprofit entity.