FirstBank, Madre Tierra Atabey partner for environment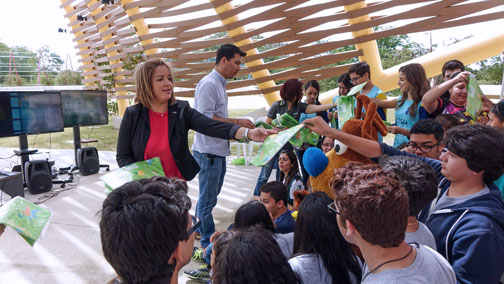 FirstBank donated $10,000 to Madre Tierra Atabey, to sponsor the "Brain Challenge" program, whose mission is to promote environmental protection among the student population.
This grant will enable the program to raise awareness of the conservation and economic value of the island's ecology. A total of 65 students in 4th to 12th grade at Yauco's Arturo Lluveras and Ponce's Librado Net public schools, participated in the first educational workshop, held in Ponce's Urban Ecological Park.
"We recognize the importance of strengthening environmental protection education among our children and youth in the public school system. Through our program, 'Uno con el Ambiente,' we seek to support such initiatives and also to provide education on subjects related to the importance of starting to save early in life, thus promoting our social and environmental commitment," said Rebeca Rivera, manager at FirstBank's Ponce Centro del Sur branch.
The "Brain Challenge" includes 11 educational workshops through which scientific experiments introduce participants to science and mathematics, and the economic value of water, soil, trees, agriculture and the state of wildlife.
It comprises a total of 160 hours, which will impact about 1,000 public school students in the municipalities of Ponce, Yauco, Mayagüez, Arecibo, San Juan, Carolina, Caguas, Fajardo, Manatí, Guayama and San Sebastián. The work team consists of a director, two facilitators and FirstBank branch managers.
"Madre Tierra Atabey's mission is to run multidisciplinary projects to raise awareness and provide guidance to the public in order to promote an environmental culture among our citizenship. We thank FirstBank for its commitment to this initiative, Brain Challenge, who like us, seeks to restore the health of our environment through education and eco-friendly activities," said Emmanuel Vázquez, president of Madre Tierra Atabey.