Forbes spotlights Puerto Rico leaders in new 30 Under 30 Local Lists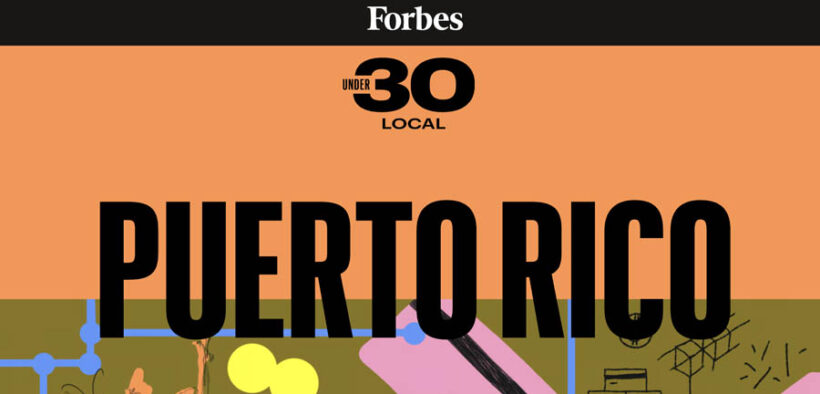 Forbes has published its inaugural 30 Under 30 Local Lists of leaders and entrepreneurs from 10 urban hubs in the U.S. and Canada. The initiative seeks to spotlight what the magazine called the "vibrant innovation hubs" of Atlanta, Austin, Boston, Chicago, Cleveland, Los Angeles, Miami, Seattle, Toronto and Puerto Rico.
"The Forbes Under 30 Local lists give us the ability to spotlight cities in the country that are often overlooked but serve as home for some of the world's most talented young innovators, who are reshaping the world," said Kristin Stoller, editor, Forbes Under 30.
The honorees represent diverse sectors ranging from art and entertainment to tech and finance. It is noteworthy that the 2023 honorees have collectively raised more than $1.4 billion in funding, according to Forbes. The magazine added that of the 371 honorees, "41% self-identify as people of color, 38% are women and 24% are immigrants."
Of the 30 honorees in Puerto Rico's list, 20 are involved directly in economic ventures. Below, are summaries of what Forbes wrote about them:
Luis Baz
At 28, Luis Baz, the chief operating officer of Carbono3, transitioned from management consulting in Spain to making a societal impact in Puerto Rico. Carbono3 is a San Juan-based venture capital firm focused on impactful STEM innovations, having secured more than $11 million in funding for projects including MBQ Pharma and the Aware safety app. Carbono3 has received significant support, such as a $2.5 million Hurricane Maria and Irma recovery grant from the Puerto Rico Housing Department. Forbes reports Baz forecasting $500,000 in 2023 revenue.
Yasmina Benslimane
Yasmina Benslimane, at 29, is a dedicated advocate for women's empowerment. Her San Juan-based nonprofit, Politics4Her, seeks greater political participation for women and pushes for gender equality in governance. She has collaborated with various international organizations and has influenced more than 20,000 individuals through her initiatives.
Benslimane projects nearly $200,000 in revenue this year. In September, her team will roll out a project, Skills4Her, "in partnership with job hunt AI startup Job Genie, that aims to provide young women with digital skills and tools for leadership development, digital activism and early career support," Forbes explained.
Pedro Cruz
Pedro Cruz, an engineer and entrepreneur, devised systems for survivors to communicate post-Hurricane Maria in 2017. His inventions include DroneAid and the DamageCheck app, which assist in disaster relief and damage assessment. Additionally, Cruz's startup, DreamWalks, employs augmented reality to offer interactive art experiences in Puerto Rico.
Alejandro Díaz and Juan Carlos Orduñez
Alejandro Díaz and Juan Carlos Orduñez opened Mr. Kukis in San Juan to offer "mouth-watering" cookies (Forbes writers must have visited to be able to say that in their own words). Offering handmade cookies, coffee and ice cream, their store has served more than 30,000 customers, with an expansion plan underway for a location to open in Bayamón in the fall. "Díaz said the company earned $300,000 in revenue in 2022 and he projects $775,000 for 2023," according to the magazine.
Maya Dunne, Kevin Dunne and Andrew Michaud
Originating from a dorm brainstorming session, Valet Seller, co-founded by Maya Dunne, Kevin Dunne and Andrew Michaud, is now valued at $5 million. The e-commerce platform collaborates with such marketplaces as Amazon, eBay and Walmart, assisting brands with product placements. Their entrepreneurial spirit has also given rise to multiple other businesses and brands on the island and in New York.
Carlos Andrés Feliciano-Vázquez
Carlos Feliciano, an engineer and investment adviser, established CAF Investments with a vision to democratize financial well-being. His firm in Guaynabo offers wealth management services and retirement planning solutions. "Feliciano says the company has 110 clients and has reached $8.7 million in assets under management," Forbes added.
Arianna Font-Martín
The aftermath of Hurricane Maria inspired 22-year-old Arianna Font to co-launch Remora, addressing Puerto Rico's clean water crisis. Their innovative off-grid water filtration system utilizes solar energy and operates in a dozen towns across the island. "Remora is currently valued at a little over $2 million," Forbes said.
Bryan García
Bryan García, a 21-year-old blockchain engineer, laid the groundwork for ATH Móvil Business, a leading transfer and payment platform in Puerto Rico. He later founded Terminal34, a technology education company focusing on bridging the gap between education and tech employment. "The company, bootstrapped by Garcia and supported in part by government grants, is currently valued at $2.3 million," the magazine said.
Carla Gautier-Castro
Motivated by sustainability, she founded KONTi Design Build Studio. Her San Juan-based venture specializes in creating homes that are resilient to earthquakes and extreme weather conditions and utilize sustainable materials. KONTi's innovations have even earned it high-level sustainability certifications in the Caribbean.
"One of the company's designs in Isabela, Puerto Rico, became the first single-family residence to achieve LEED Platinum certification in the Caribbean, with LEED Platinum being the highest level of LEED certification in terms of sustainability," Forbes pointed out, adding that "Gautier projects nearly $700,000 in revenue for 2023."
Jaime Ginorio, Josean López-Sekulits and Jubal Rodríguez
After recognizing the limitations of major property search websites like Zillow and Realtor.com in Puerto Rico, Jubal Rodriguez, Jaime Ginorio and Josean López introduced the Bluepath Group with $240,000 in funding. According to Forbes, this proptech company provides a "seamless search experience for people looking to buy property in Puerto Rico." One of the company's platforms, Find It PR, reportedly attracts more than 30,000 monthly users. 
"Bluepath is also behind GoBluePath, a site that provides brokerage services at more affordable rates than the industry standard," the magazine added.
Henry Keenan
Henry Keenan transitioned from research and development roles in real estate to founding RED Atlas in 2021. The tech software company, as quoted by Forbes, offers "real estate professionals with information on properties and property markets." Utilizing AI, machine learning and user-generated data, the company, which has nearly $1.4 million in funding, is projected to make $1.2 million in revenue this year, Keenan told Forbes.
Jaloree Lantigua
Jaloree Lantigua, a game developer and speech therapist, started STREAM Technologies in San Juan to prepare "the next generation of engineers, entrepreneurs, and innovators." The company also offers programs for students with autism spectrum disorder.
"Her company reported $100,000 in revenue for 2022 and projects $1.75 million for 2023," Forbes added.
Fernando Maldonado
With a dual background in computer science and real estate, Maldonado established Blackmont Homes and later Homemash, which offers homeowners an innovative approach to selling, allowing them to receive offers without listing their properties.
"Blackmont Homes, which is valued at $1 million, closed $1 million worth of real estate in June alone and is on track to achieve the team's goal of closing $40 million worth of real estate in their first year," according to Forbes.
Alex McCurry-Oliver
Alex McCurry-Oliver founded Solidity.io, a blockchain development firm that has the "goal of becoming the largest software infrastructure provider in the crypto industry," Forbes wrote about the "rapidly growing company, valued at $24 million and fully bootstrapped by McCurry-Oliver," which "has built and assessed more than $1 billion in market capitalization of cryptocurrency startups and protocols to date."
Iván Mulero-Ortiz
Iván Mulero uses his upbringing in Puerto Rican agriculture and culinary traditions to create content for his BoriLicious brand, whose more than 1 million followers on social media get to see his "mouth-watering creations, such as mofongo cups (fried plantains with a modern twist), pastelillos de carne (meat turnovers) and coquito de café (a coconut rum drink mixed with espresso).
Gia Ramos
Challenged by the gender disparity in her first robotics class, Ramos took the initiative and founded Girl Innovation in 2018, a nonprofit promoting robotics and programming education for underprivileged girls in Puerto Rico.
"The initiative has been sponsored by Cortelco, CISCO, HERLead (Ann Taylor/LOFT) and T-Mobile, receiving $10,000 in funding from grants, sponsorships and personal savings," her Forbes entry reads. She also launched Girl Innovation Talks, a video series that has expanded abroad with the Girl Innovation Ambassador program.
Mariano Sanz
Following a financial career, Sanz co-founded Kiwi Financial alongside his business partner Alexander Schachter. The fintech startup assists Latinos in the U.S. to rebuild their credit scores through structured loan offerings.
"Sanz says the startup's main competitors are Banco Popular and Island Finance, and the startup has received $82.5 million in funding to date from investors and startup incubators, including i80 Group, Advent-Morro Equity Partners and Orlando Bravo's Rising Entrepreneurs Program."
José Soto-Rivera
Starting with personal deliveries to his grandmother during COVID-19 restrictions, José Soto co-established ACOMERPR, a food distribution nonprofit that consists of 130 community organizations that distribute 168,000 meals annually.
"ACOMERPR has generated more than $3.3 million in revenue to date, and investors and donors include Beast Philanthropy, Walmart, USDA, Apple and more," Forbes wrote, adding that Soto was invited to Bread for the World's Advocacy Summit in Washington, D.C., to share his insights on food security with members of Congress.
Laura Tirado
The pandemic saw a surge in demand for delivery services, and Laura Tirado and her brother Francisco's Uva platform was there to cater to the island's needs. The company, whose main competitors are Uber Eats and Doordash, has achieved $45 million in sales since its launch in 2017.
"In addition to providing food and grocery delivery services, Uva—with 245,000 users—also allows customers to quickly order jewelry, skincare and more," Forbes explained.
Ryan Zeiser
From an early-age entrepreneurial venture in online retail to renewable energy development, Ryan Zeiser's journey has included launching a successful company that later became known as The Collection Miami and co-founding onCORE Origination, "which is now valued at $5 million" and "has aided in the development of hundreds of renewable energy projects across the country and Puerto Rico, totaling over 500 megawatts and $500 million in value," Forbes said. "As the renewable energy industry continues to take off, onCORE is projected to reach over 1 gigawatt and $1 billion in developed projects over the next couple of years."