Foundation for P.R.: Visitor economy key to growth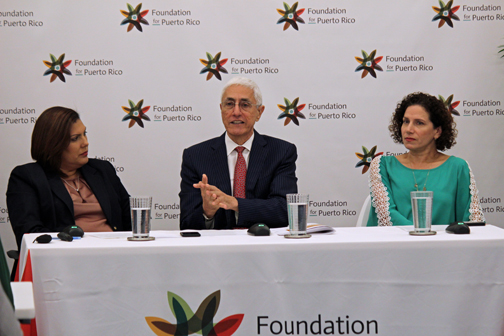 Foundation for Puerto Rico presented Thursday its strategic vision to develop the island's visitor economy as the first step toward the island's economic transformation within the next five years.
During a news conference, Foundation Chairman Jon Borschow outlined the strategic vision the organization is proposing to drive the economic development of Puerto Rico through the visitor economy.
"During the past years, the Foundation has dedicated all of its efforts to study and understand the visitor economy, both in Puerto Rico as well as globally," said Borschow, adding tourism is the only economic sector that has sustained continued growth, despite the fiscal crisis.
"We are certain that the development of the visitor economy is the right strategy and the first step toward the economic transformation of Puerto Rico," he said.
Within a five-year period Puerto Rico could double the amount of the economic contribution of the visitor, as well as the number of jobs and entrepreneurial opportunities, directly and indirectly related to the local travel and tourism sector.
"It is as simple as 2+2…increasing by two million within the next five years the number of visitors that come to the island and extending their average stay for additional two days.   Achieving this goal has the potential to generate an additional $7 billion to the economy [duplicating the actual tourism contribution] and to create up to 70,000 job opportunities and entrepreneurial undertakings," Borschow said.
Duplicating the size of the visitor economy in Puerto Rico has benefits for everyone. It will help to halt the current recession's downward trend, provide new economic resources to secure the provision of essential public services, stabilize the local service and consumer economy, creating greater demand and drawing external resources, foster the creation of jobs and significantly reduce the migration and "brain drain," as well as position Puerto Rico as a geopolitical bridge between the U.S. mainland and Latin America, among others.
Data from the United Nations World Tourism Organization (UNWTO) gathered from research on the size of the global travel industry shows that 1.2 billion people engaged in international travel during 2015.
According to estimates from the World Tourism Organization, international travel for 2016 is expected to increase approximately 4 percent, while the World Travel and Tourism Council said this figure could reach 1.8 billion of people traveling internationally by 2025.
"Even though Puerto Rico is an extraordinary destination, it currently captures only 0.3 percent of international travelers, so there is a huge potential for growth if we act promptly and transform the visitor economy the top priority economic development strategy for our island," Borschow said.
The Foundation identified five areas of opportunity — create networks and alliances, global marketing, enhance the visitor experience, measure results for continuous improvement, and lead to a mind shift — on which Puerto Rico should focus on as enabling conditions and propelling engines to drive the effective success of this economic development formula.