New $3.6M School of Tourism opens in Mayagüez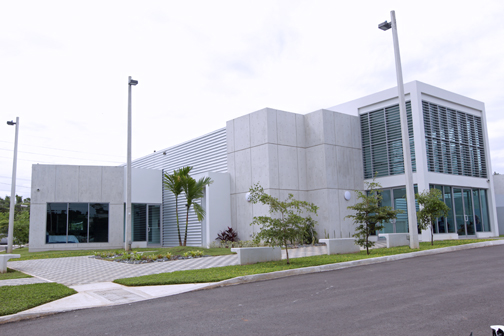 Jorge Iván Vélez-Arocho, president of the Pontifical Catholic University of Puerto Rico, announced Thursday the opening of the $3.6 million University School of Tourism, Hospitality and Culinary Arts (EUTHAC, its Spanish acronym) in the college's Mayagüez campus.
The modern, multi-story structure houses advanced technologies and specialized equipment, large kitchen areas and laboratories. These facilities will enable students to opt for an Associate's degree or a Bachelor's degree in Business Administration with a major in Hospitality and Restaurants. Post-secondary technical education in Culinary Arts, seminars and special certifications, among others, are also offered.
"With EUTHAC we have created a first-rate preparatory channel that is focused on high-growth industries that are relevant to Puerto Rico. The island is confronting multiple challenges and fostering professional leaders in the areas of tourism, gastronomy and hospitality is essential to strengthen the island's economic development," Vélez-Arocho said.
EUTHAC's vision is to become the top-choice university school in the areas of tourism, hospitality and culinary arts in the Porta del Sol region in Puerto Rico and the Caribbean, said Olga N. Hernández de Patiño, Chancellor of the Mayagüez campus.
"Our academic programs are highly competitive. We offer future professionals the knowledge, skills and techniques that are tempered to the demands of today's world," she said. "We also offer professional practicum programs in real working environments, cultural experiences, and participation in festivals and competitions, among others."
EUTHAC features a modern reception area that simulates a hotel, storage space for specialized equipment and dry goods, auditoriums with full kitchens for practice and demonstrations, and classrooms for workshops and lessons. Also, specialized laboratories for culinary arts, bar techniques, mixology and bakery.
The School also features a classroom that simulates a hotel room, cargo areas, and a restaurant-style multipurpose room.
Legacy of academic excellence
For more than 15 years, the Mayagüez campus of the Pontifical Catholic University has been offering the Associate's and Bachelor's degree in Business Administration with a major in Hotel and Restaurant Management.
"Studying here has been an 'epic' experience. Since I was a kid my dream has been to specialize in this field, and with the skills and knowledge that I am acquiring, I am closer to making it a reality," said Ashneidy Bosques-Báez, a second-year undergraduate student.
"EUTHAC is an important resource in learning new things and has access to the latest technology. It gives me the perfect balance between theory and practice. In fact, I did my housekeeping practicum at a hotel in Mayagüez. This has reaffirmed my commitment to wanting to remain in Puerto Rico to represent the best of what my island has to offer to our visitors," she said.
In August 2014 the campus began offering a post secondary technical program in Culinary Arts. This past June, the program graduated its first class, school officials said.
The academic curriculum at EUTHAC also includes continuing education, seminars and special certifications such as ServSafe Food Safety Program for Managers, baking tropical cakes, confection of vegetarian dishes, fall desserts and service etiquette, among others.
EUTHAC mainly serves the Porta del Sol region in Puerto Rico, which comprises 17 western municipalities that are home to a wide range of tourist attractions.