Frozen yogurt retailer Joybee looking to expand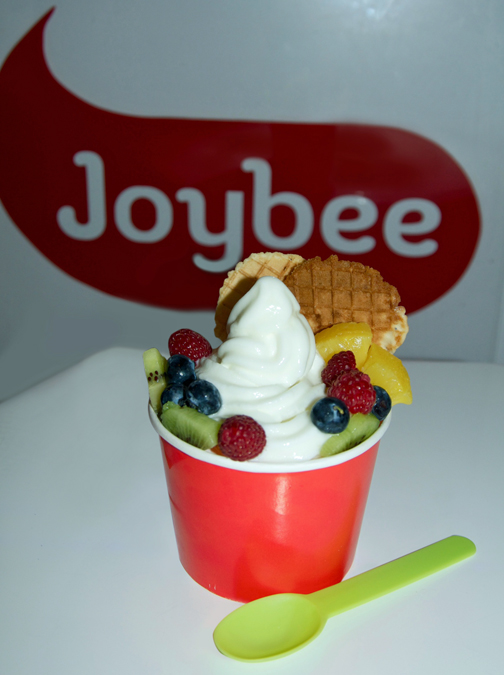 Following the boom and broad acceptance of the frozen yogurt shop concept on the island, Puerto Rican company Joybee, is looking to expand its nutritious concept throughout the island by opening several new stores, company owners said Monday.
However, Joybee's recipe for expansion is different. For this proposal, company President Nazli Iqbal, has expressed an interest in offering a business opportunity for Puerto Rican entrepreneurs seeking to identify a stable industry from which to help the island's economic development.
With that, Joybee customers will be able to enjoy their products and services in several places outside Old San Juan's Plaza de Armas where the island's only shop is located. The number of new future stores will depend on the interest expressed by potential business partners
"We're seeking partners who have that entrepreneurial spirit and a great sense of customer service. Joybee's [goal] is to become that destination where the customer feels comfortable and can have an enjoyable experience while consuming a nutritious product," said Iqbal, of Pakistani origin, who has four years of experience in the food industry and entrepreneurship.
Iqbal and husband Imran Mukhtar founded the Joybee concept in late 2011, with the Old San Juan store launching in September 2012.
"Puerto Ricans are fanatical about three things: great atmosphere, great food and great music. The concept has already been created, so we're extending the invitation to those entrepreneurs who wish to invest in the brand," said Iqbal who moved from New York City when Mukhtar's job with the Urban Train project brought them to Puerto Rico in the late 1990's.
With the ever-growing focus on a healthy lifestyle, frozen yogurt is quickly becoming a dessert of choice for people from all walks of life — from the young to the mature, and from women and men to children. With its probiotic properties, which help in digestion and build immunity, and high calcium content, Joybee frozen yogurt is that combination of a "good for you healthy treat and superb taste," she said.
The initial investment to establish a Joybee shop is between $150,000 and $200,000, depending on the size of the space. That investment includes developing the Joybee concept, in which it is essential to maintain an interaction between customers and the employee, the machinery, and the premium variety of products, from fresh fruit and several of the toppings.
Puerto Rico's frozen yogurt market has grown exponentially in the last year, with the arrival of several concepts, including Yogen Früz and FroyoWorld, among others. In Joybee's case, it sells its self-service products either for a fixed price for a cup with unlimited toppings, or by weight.
"From the moment you walk into Joybee, it's a treat. From the premium, frozen yogurt and the large variety of fresh fruit and fun toppings, to the inviting colorful ambiance, the carefully selected upbeat music, and top-notch service, everything is designed for a perfect experience every time you enter Joybee. We want you to enjoy a moment of pure happiness when you are inside Joybee," said Mukhtar.