Yogen Früz chain grows to 30 stores in Puerto Rico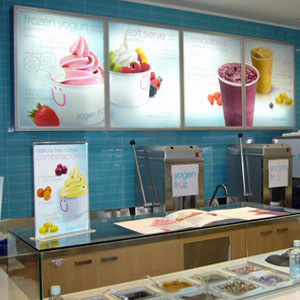 Frozen yogurt franchise Yogen Früz has increased its presence in Puerto Rico to 30 stores with the recent opening of two new locations at the Rexville Town Center in Bayamón and Galería Juncos, company officials confirmed.
The chain, which has given the opportunity for new entrepreneurs to have their own business, has also been responsible for creating about 360 direct jobs to help promote the economy on the island since its arrival in 2008.
"The Yogen Früz concept came to Puerto Rico to meet the need of consumers who care about their health and want to have a product that can be enjoyed at any time and be part of a balanced diet," said Katia Molero, president of YFPR Caribbean, the chain's franchise holder.
The chain's expansion plans continue in 2014, with the opening of two other stores in Cayey and Condado that are currently under construction.
Yogen Früz is a Canadian concept that features as many as 40 yogurt flavors that change weekly. Customers can choose from low-fat, non-fat, non-fat no-sugar-added, and lactose intolerant options. To top off their choice of yogurt, Yogen Früz offers a variety of topping choices such as fresh fruits and some sweet temptations like chocolate, marshmallow, cheesecake bites and brownie bites.