Gov't housing incentive program moves more than $1.7B in property sales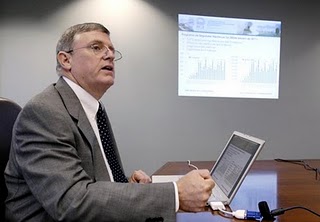 With just three months left before the government's housing incentives program comes to an end, Housing Finance Authority Executive Director George Joyner urged consumers looking to buy a property to avoid waiting until the last minute.
Through Feb. 28 — the six-month mark of the 10-month incentive program — some 13,194 new and existing homes worth more than $1.7 billion have been sold assisted by the multiple benefits of the 2011 Housing Stimulus package.
The number of homes sold is broken down into 2,637 new homes — or 20 percent of the global figure — and 10,557 existing units, said Joyner during a roundtable discussion with members of the local media. When compared year-over-year, the HFA's numbers show that new and existing home sales have doubled.
"The effect of this law has been to nearly double the number of new property sales, and it has also spurred an increase in the dollar value amounts of the sales," said Joyner, referring to Law 132 passed last year approving the four-pronged incentive program.
Under the 2011 Housing Stimulus program — which expires June 30 — new homebuyers are exempted from paying certain costs associated with the mortgage application and closing process, property taxes and special surtax fees for five years, and capital gains taxes when sold. Three other programs provide financing of up to 105 percent of the purchase price of a home ("My Mortgage Insurance"); subsidies for social interest homes ("My New Home"); and 10-year tax exemptions for rental property income ("Rental Market Stimulus.")
During the roundtable discussion, Joyner said that homebuyers participating in the program are receiving an average of $5,600 per closing in government incentives for properties whose costs average $135,000.
The HFA's data shows that as a result of the housing stimulus package, total unit sales have improved an average of 16.4 percent during the September-February semester, in comparison to the same period in 2009. In terms of dollar value, the year-over-year comparison shows an increase of 28 percent.
Sales of new properties — which are included in the overall results — have also performed positively, with a 51 percent increase in sales, the data shows.
Given that the mortgage process usually takes about eight weeks to complete, Joyner advised consumers to file their application with their bank on or before May 15, 2011.
"Once the incentives are finished on June 30, it's over. They must take advantage now," Joyner added.