Governor: Private sector has already pledged 16K jobs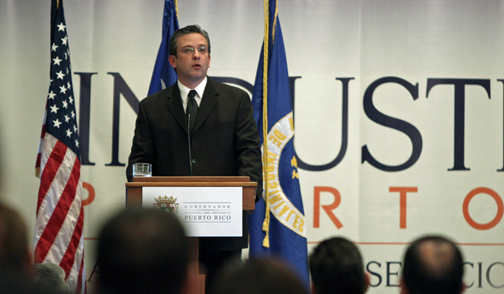 Gov. Alejandro García-Padilla detailed Thursday the progress of his administration's strategies to revive the island's economy, saying among other things that the private sector has already pledged to create 15,896 of the 50,000 he vowed to lock down in the first 18 months of his tenure.
Speaking to members of the Puerto Rico Manufacturers Association, the governor said jobs promised span all economic sectors, including manufacturing.
During his address, García-Padilla also announced the launching of the www.empleosahora.pr website, through which companies can apply for benefits granted under the Jobs Now Act approved last month.
"Users may apply for the benefits of the law immediately. By May, we will be granting the first energy credits [available under the law]. I hope that more entrepreneurs join this effort and bet on the island," he said.
Regarding energy, another issue the PRMA has raised as issues that must be addressed to re-energize Puerto Rico's socio-economic development, García-Padilla "we all agree the current energy situation is unsustainable. It is not good for the island in general, is not good for industrial climate, and is a deterrent to attracting investment."
That said, he noted his administration has placed high priority on developing an energy reform "to cover all the bases:" production costs, diversification of energy sources, fiscal consolidation of the Puerto Rico Electric Power Authority, environmental protection, and the rate structure, among others.
Several initiatives underway are wrapping up the modification to two units at the Costa Sur production plant to begin burning 100 percent natural gas, as well as converting two units at the Aguirre energy plant to do the same, thus pulling away from the dependency on petroleum-based products to produce power.
"These and other measures will result in less expensive and more efficient energy production, something that homes, business and industry need," the chief executive said.