Governor signs prepaid wireless phone registry law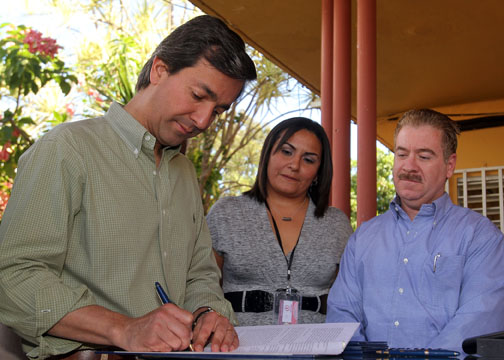 The concerns expressed by the island's wireless carriers and retailers over the potentially harmful effects of regulating the sale of prepaid cellphones on consumers and competition apparently fell on deaf ears, as Gov. Luis Fortuño signed Tuesday a law mandating it.
Upon signing House Bill 1956 into the law that also orders the Telecommunications Regulatory Board to create a registry of consumers who buy wireless handsets, Fortuño said the measure will "help to significantly prevent that criminals continue to use prepaid phones, unpunished, to commit crimes and extort citizens by making them believe they have kidnapped a family member to steal their money."
As News is my Business reported, wireless carriers opposed the measure for several reasons, including that it would not only undermine the strengthening and growth of small and medium businesses — which would suppose a direct impact on the economy — but would be almost impossible to implement given that there an estimated 800,000 prepaid handsets in use in the market.
As opposed to wireless handsets that carry contract agreements, prepaid handsets need not be registered with the carrier that offers the service. This means that carriers do not keep track of the customer's name, address or any other information that identifies them.
Fortuño said that precisely is the reason that makes it impossible for authorities to track down their owners in case of an extortion incident. The registry the TRB has been ordered to create will contain information that will only be available to law enforcement agencies that request it as part of a criminal investigation.
However, in a joint statement issued earlier this month, representatives from T-Mobile, AT&T, Claro and Sprint said companies constantly work with law enforcement agencies, rendering the bill unnecessary.
Retailers call in concerns
The bill's signing drew immediate reaction from the United Retailers Association, which on Tuesday urged its members to evaluate whether selling prepaid phones remains a cost-effective service.
"We recognize the merit of the measure as it addresses a public safety issue," said Ignacio Veloz, president of the trade organization known as CUD. "However, it represents an additional burden on top of many others the government has imposed on the small and mid-sized business sector."
Specifically, Veloz mentioned the penalties that retailers are exposed to for infringing the law of as much as $25,000 per violation.
"We're sending a direct message to retailers. They should evaluate the profits they make from prepaid phone sales against the risk of being fined to determine if it is worth it, or if its simply best left to no longer offer the product," Veloz said, noting the CUD will orient its members on the terms of the new law, to help them avoid fines.