30 'Pa Mi Gente' program rolling kiosks up for auction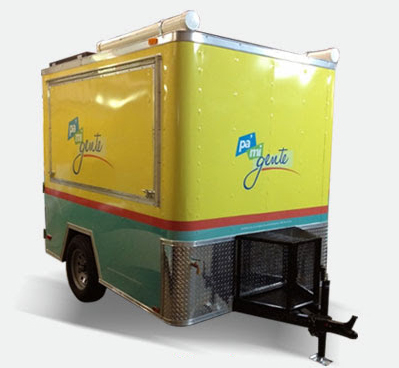 Auction house Centro Casas will be putting up for bid 30 rolling kiosks that were part of the "Pa' Mi Gente" program launched by former Gov. Luis Fortuño's administration in 2010, this media outlet confirmed.
The auction will take place Aug. 25, at 10 a.m. in San Juan. Centro Casas was hired by the distributors of the trailers to sell the remaining lot, said Betsy Pino, the company's vice president.
According to the auction description, the sale will be "accessible to all public." But to participate, bidders must present a good-faith deposit of $500. Centro Casas will earn a 10 percent commission fee over the final price of the sale after the auction ends, the company's website shows. The kiosks will be sold "as is."
The "Pa' mi Gente" program was created in 2010 to promote microenterprises in the categories of accessories, crafts, flowers, services, fruits and vegetables, and light meals and ran through December 2016. It had a $5 million budget from the so-called "Local Economic Stimulus Plan" created under the Fortuño administration.
The administration expected to deliver some 300 kiosks to qualified entrepreneurs in 14 towns by the end of 2012. As of press time, it remained unclear how many were actually assigned.
The Puerto Rico Labor Department was in charge of selecting the participants who would use the kiosks equipped with solar panels that were able to gather energy to run for five days without sunlight, and a water cistern system.
Earlier this year, the Puerto Rico Comptroller's Office released a report revealing faults related to the contracts the Labor Department granted for professional and consulting services related to the purchase and construction of the kiosks.
The Comptroller's report, which covered the period from Jan. 1, 2012 to Dec. 31, 2016, detailed, for example, that one of the suppliers to whom the agency awarded a $1.1 million contract to build 150 kiosks did not comply with the terms.
"Contrary to the Acquisition Regulation, the Labor Department did not impose on the supplier the penalty of $25,650 for late delivery nor did it notify the General Services Administration so they could impose disciplinary measures against the supplier," the report stated.
The report also noted that the agency formalized a takeover agreement with the insurer to complete the construction of the remaining 130 kiosks.
The auditors also found that the Labor Department did not oblige the funds to pay for some of the work and modifications made, and in 2013 paid $248,737 for 34 kiosks that three years later, in 2016, were still in the contractor's workshop.