Grupo Guayacán grants $50K in seed funding to 3 co.'s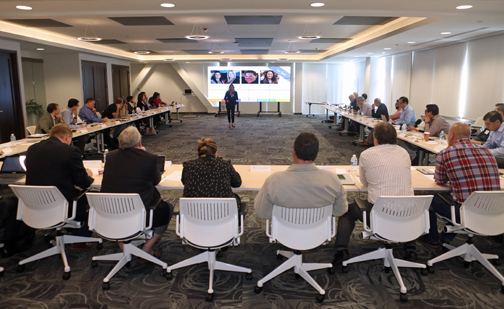 Grupo Guayacán Inc. has granted $50,000 in seed funding to three companies that graduated from the first edition of the SPRINGBOARD program, the nonprofit announced Monday.
The three awardees are: Aseguratec ($25,000,) School Climate Solutions ($15,000) and Tix.By ($10,000.) The grants were announced during Guayacán's Demo Day that took place over the weekend. The event drew 39 local and international investors, as well as participation from alumni companies of Guayacán programs SPRINGBOARD and Guayacán Venture Accelerator.
"For Guayacán, Demo Day is always a special occasion that allows us to connect the graduated companies of our business development programs with a diverse group of investors and other capital providers," said Grupo Guayacán Executive Director Laura Cantero.
"This year, we have the largest panel in the history of Demo Day, with the participation of 39 panelists, including 14 investors, who visited us from different cities in the United States and Canada," she said.
"This type of activity is key to advancing Guayacan's mission to develop a private capital market that offers entrepreneurs different alternatives to access the capital they need to launch and grow their companies," Cantero added.
The list of invited investors included StarVest Partners, Sunburst Ltd., Community Development Venture Capital Alliance, Golden Seeds, VA Angels, Idea Fund Partners, New World Angels and First Angel Network Association, among others.
Demo Day also had the participation of a diverse group of investors and local capital providers, including several funds assigned to the Act 185, known as the Private Capital Act. Local attendees included Banco Popular, Banco Santander, Puerto Rico Economic Development Bank, Bluhaus Capital Partners, Semillero Ventures, and Acrecent, among others.
The three companies that received seed capital are graduates of SPRINGBOARD, whose first edition was launched by GGI this year with the aim of offering high-potential start-ups the knowledge, tools and resources they need to raise the capital that will enable them reach the next level.
Aseguratec, the company that won the grand prize, is an online platform that allows consumers to obtain estimates for different insurance products and compare prices and benefits among different suppliers.
In addition to its participation in SPRINGBOARD, the Aseguratec team is also the winner of the last edition of the EnterPRize business competition, as well as participants of the second Parallel18 class.
The funds will help the company continue to develop its platform as well as expand its marketing efforts, company officials said. Aseguratec's presentation received high scores from the participating investors, standing out for its business model, innovation and scalability.
The program was sponsored by the Growth Accelerator Fund Prize of the U.S. Small Business Administration, and was carried out through a partnership with the Angel Resource Institute, known as ARI.
Participating investors in Demo Day also had the opportunity to meet the graduates of the 2016 Guayacán Venture Accelerator, a program focused on supporting the accelerated growth of established companies through a rigorous executive education curriculum.
Presentations included: Connect Road Assist, GEO-Engineering, Cobalt, BioPharma Consulting Services, and New Energy. Some of the companies were looking for expansion capital, while others were interested in identifying strategic advisers to implement their plans for growth and entry into new markets.
"The goal of Demo Day is to attract venture capital investment into Puerto Rico by connecting some of our most promising entrepreneurs with veteran investors from around the world," said Troy Knauss, a leading instructor for SPRINGBOARD and a member of the Board of Directors of ARI.
"I am confident that the relationships we begin to forge during Demo Day will be very beneficial to the development of these companies and may even become attractive investment opportunities," he said.