Homebuilders: End of 'Mi Casa Propia' will hurt sector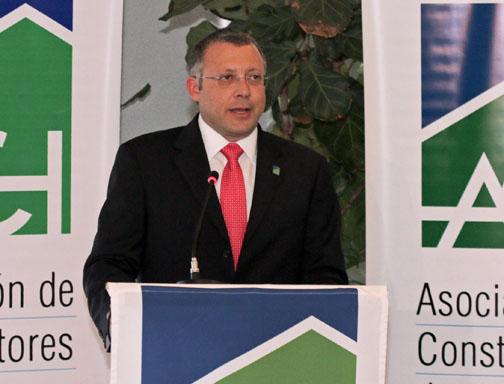 The head of the Homebuilders Association, Roberto Trápaga, warned Wednesday that funds that fuel the successful "Mi Casa Propia," a government assistance program that provides mortgage assistance to working people with limited resources, are practically tapped out.
If additional funds are not allocated immediately it will bring the sale, acquisition and construction of affordable housing projects and mortgage-related closings to a standstill, he said.
The fund reportedly has less than $2 million left, this media outlet learned.
During a morning news conference, Trápaga said the industry is aware that both the central government and the legislature are analyzing the subsidy program, taking into consideration the tough fiscal conditions currently prevailing.
However, he said it is crucial at this point when they are making important determinations to also take into account the risks of ending a program with proven success and of high social and economic impact.
"For years, the government and the island have called upon our industry to build for the low-income working class and thus provide safe housing alternatives to Puerto Rican families who have fewer resources," said Trápaga.
"Currently, despite the difficult situation facing our industry, housing developers have accepted that call and are building to meet the demand for affordable housing," he said.
The "Mi Casa Propia" program — established in 1993 — is run by the Housing Finance Authority, which in 2013 oversaw $15 million in assigned funds. Earlier this year, Gov. Alejandro García-Padilla signed Law 31-2014 to establish that funds for the program will be identified and deposited on Jan. 1 of each year.
A shutdown of the assistance program would also disrupt the mortgage industry, said Agustín Rojo-Montilla, head of the Mortgage Bankers Association, explaining that the majority of the loans currently up for approval are contingent on qualifying for "Mi Casa Propia" funds.
Meanwhile, Economist Graham Castillo, of the Estudios Técnicos firm, presented a study of the program's most significant results.
He said the government's contribution signifies only 3 or 4 cents, while the remaining 96 cents is full private investment. He also said since the program started in 1993, about 60,000 families have benefited.
Meanwhile, private investment has resulted in housing construction in the markets of greatest need in Puerto Rico, and that for every $1 million invested, 11 direct jobs and 25 indirect jobs are generated. It also generates significant tax revenue for the central government, municipalities and public corporations.