Huellas-Footprints Corp., PRMA ink collaboration agreement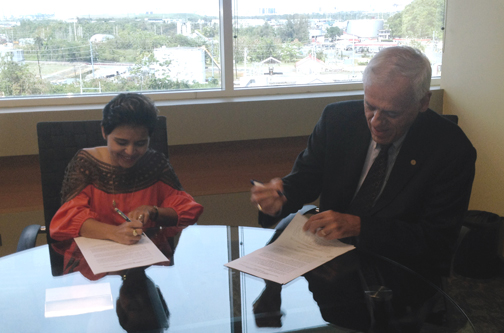 To mark its second anniversary, Huellas-Footprints Corp., an organization dedicated to developing corporate social responsibility strategies and creating share value initiatives, recently struck an alliance with the Puerto Rico Manufacturers Association to provide its expertise to the trade group.
This alliance will allow Huellas to join the PRMA's social responsibility committee, as well as share information to help orient and educate member companies. In turn, the PRMA will develop workshops, events and activities focused on the topic to benefit the group.
"We've very happy because Huellas continues to grow at a steady pace. As part of this second year we're strengthening our commitment to Puerto Rico's economic and social development, offering unique services on the island to change the business paradigm of enterprises and contribute to improving the quality of life of Puerto Ricans," said Gia Morales, president of Huellas, during the recent signing of the agreement.
Huellas believes the agreement will help PRMA member companies to expand and strengthen their existing social responsibility programs and assist those not having any in place to develop initiatives that results in benefits not only to communities but that will also generate goodwill, Morales said.
Over the years, the PRMA has developed initiatives designed to encourage its members to steer their operations within a framework of corporate social responsibility, PRMA Executive Vice President William Riefkohl said.
"Our code of ethics, our commitment to education, the environment, with best labor practices, safety and occupational health, socioeconomic development, are examples of this," he said. "Thanks to organizations such as Huellas, with whom the PRMA has established this strategic alliance, we can continue to educate our leaders about the importance of this issue as a business strategy and to develop social capital."