Hurricane María, a 'game changer' for P.R.'s economic forecasts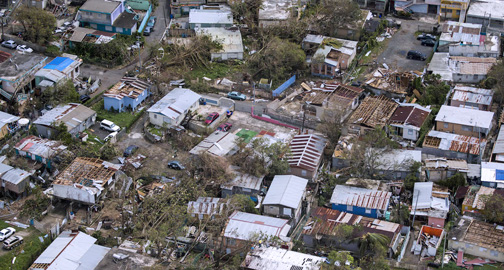 Hurricane María caused historic record damages in infrastructure and business interruption, impacting all dimensions of the economy, including the labor market, the energy sector, tourism, public finances, destruction and damages of homes as well as causing massive outward migration, mostly to the U.S. mainland.
Furthermore, the massive storm that clobbered Puerto Rico last September, has altered economic projections for the next several fiscal years, according to the latest edition of "Pulse," a newsletter produced by H. Calero Consulting Group.
The financial firm used its proprietary economic model to predict a base scenario of –8.8 percent real Gross National Product growth in Fiscal 2018, improving to 1.1 percent in Fiscal 2019, and -3.8 percent in Fiscal 2020.
"With increased outmigration in Fiscal 2018 and 2019, consumption and disposable personal income are forecast to fall from 2018 thru 2020. Government spending, driven by increased net federal transfers and grants will grow 1.5 percent in Fiscal 2018, 2.5 percent in 2019, and 2.0 percent in 2020," the economic analysis firm projected.
Certain key economic areas were included in the report, several of which will likely take a hit in coming years, the firm noted.
For instance, investment in construction is expected to jump dramatically in Fiscal 2019 and 2020, driving up total investment from -1.6 percent in Fiscal 2018 to 10.1 percent in 2019, and 6.1 percent in 2020.
Meanwhile, the island's inflation rate will remain slightly lower than inflation levels in the U.S. mainland, but this could change if oil prices climb with increased tension in Syria.
Puerto Rico's exports are forecast to drop -16.5 percent in 2018 due to the impact of Hurricane María on the island's power grid, more plant closings, and manufacturers' strategic planning following the U.S. Tax Reform of 2017.
"This shrinking trend will continue in 2019 with -9.5 percent growth and in 2020 with a -5 percent drop in exports," H. Calero Consulting predicted.
On the job front, the firm believes unemployment will decrease slowly to 11 percent in Fiscal 2018, 10.5 percent in 2019, and 10.2 percent in 2020.
"This reduction is not the result of job gains but of discouraged workers exiting the labor market," the firm concluded.
"María is a game changer, and Puerto Rico will be playing a dangerous game of 'tic-tac-toe' for the next few years. A renegotiation of the public debt is a must and so is the alignment of the Financial Oversight and Management Board for Puerto Rico and the government to achieve growth and enable the government to once again have access to financial markets," the firm noted.