Statistics Institute creates platform to measure Puerto Rico's farming production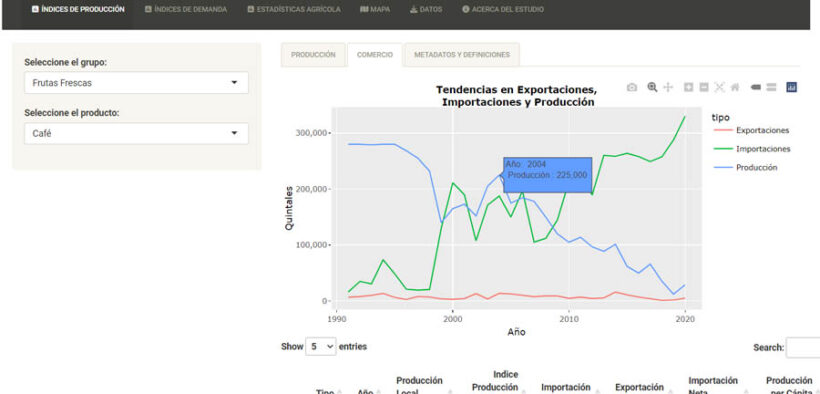 The Puerto Rico Institute of Statistics introduced a new tool that will facilitate access to agricultural statistics while observing which products within the agriculture sector have greater or lesser demand in Puerto Rico.
The Statistics and Indicators Platform for Agricultural Production in Puerto Rico, whose main source of data was provided by the Puerto Rico Agriculture Department, is expected to benefit thousands of farmers and other people. The platform includes production and demand indexes for root crops, meats, floury products, fresh fruits, fresh vegetables, milk and dairy products.
Regarding production indices, the platform highlights meaningful factors such as exports versus imports. Demand indices, on the other hand, include data on per capita consumption versus per capita production. The tool also includes agricultural statistics such as agricultural activities, losses and small ruminant producers, as well as a metadata section for the definition of concepts.
The platform collects data from 1990 to 2021 and its regular updating allows for the comparison of the production of goods such as oranges, bananas and coffee. One of the statistics that stand out is the decline in local coffee production.
According to Agriculture Department data, in 1990 local coffee production was 280,000 hundredweights, or 28 million pounds, while in 2020 production decreased drastically to 28,943 hundredweights, or 2.9 million pounds.
The institute's data and statistics specialist and project supervisor, Manuel Mangual Martínez, said the decrease in production could, among other factors, be the result of such situations as the passage of Hurricane Maria. which resulted in a significant decline in coffee production since 2017, when it struck, reaching its lowest point in 2019, with only 12,127 hundredweights, or 1.2 million pounds, of coffee produced.
"For several reasons, access to agricultural statistical information in Puerto Rico has been a huge challenge for farmers, researchers and citizens in general," said the institute's executive director, Orville Disdier.
"With this platform, the institute offers all citizens, and especially farmers, quick and universal access to data and statistics on the production and demand of food in Puerto Rico, in one place, accessible 24/7 from anywhere in the world," he said. "Access to these statistics will facilitate evidence-based decision-making that promotes food security in Puerto Rico."
Disdier further noted that the platform will continue to evolve and will have more information in the future.