Island homebuilders ready to export services to LatAm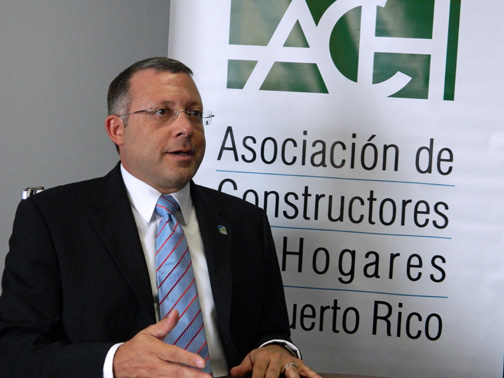 Puerto Rico's housing developers are ready to address the current needs that countries in Latin America have for housing by exporting their services, experience and knowledge about foreign markets, Homebuilders Association President Roberto Trápaga said Tuesday.
"We see a great opportunity especially at this time when there's a great need and also a wide range of opportunities for developers in countries like Peru, Costa Rica and Colombia to develop affordable housing. We're ready to contribute our experience," said Trápaga, president of the trade group known as the ACH for its initials in Spanish.
The head of the ACH made his comments during his participation at the Opportunities in Latin America for the Construction Industry Conference hosted by the Puerto Rico State Department and the Inter-American Development Bank at the Puerto Rico Convention Center. The event wraps up today.
"It's the ideal time to maximize the opportunities that give us the tools we have, such as Law 20, which promotes export of services and the great talent and technical and professional capacity of the local construction industry to do business in Latin America and generate opportunities in their markets," said Trápaga.
"We hope that we can reach agreements very soon so Puerto Rico home builders may begin working and providing expertise in Latin America," he said.
During the event, Gov. Alejandro García-Padilla reaffirmed his commitment to the sector, noting that one of the pillars of his administration's economic development plan is exporting services through the field of construction. He also said Puerto Rico not only has the expertise to develop high profile construction, but also that the industry applies the highest standards and codes in its projects.
"My government wants to be a facilitator for those who want to build businesses through the export of services and infrastructure projects outside of Puerto Rico," said García-Padilla. We have spared no efforts and continue with this task that our people are asking for, which is creating jobs and sustainable development of Puerto Rico."
The Inter-American Development Bank is a major source of funding for infrastructure projects in Latin America. The event in Puerto Rico has paid off at it has already generated exchanges between the bank and the governments of Peru, Colombia and the Dominican Republic, on projects that have potential.
The government is also spearheading negotiations with the governments of Spain, Mexico, Costa Rica, Guatemala, Honduras, Russia, France and Israel to strike joint economic development projects, which the governor did not specify.