Kia shoots for 30% growth in '12, 5th place ranking in P.R.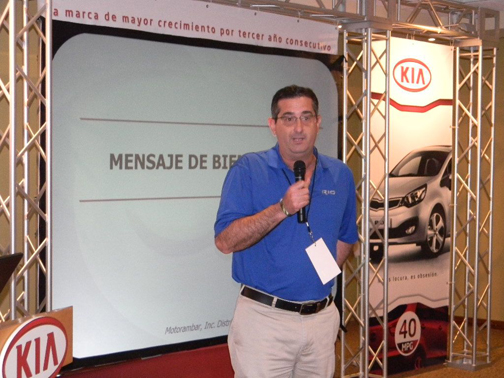 GUÁNICA — Kia Motors Puerto Rico is counting on its redesigned models and a strong dealership network to drive a 30 percent growth of the brand this year and a push to fifth place among the island's top-selling automakers, company executives said during its annual gathering this weekend.
The Puerto Rico operation, which is already the fifth most important market in a 44-country region spanning Central and South America, is banking on its redesigned Rio and wildly popular Soul models to get it there, José Ordeix, president of Motorambar, Kia's local distributor since 2000, said.
"Kia is a brand that has achieved growth in the past three years. While the Puerto Rico general auto market has shown modest growth, Kia experienced a 26 percent growth in 2011, again reflecting double-digit improvement," Ordeix told a roomful of its dealership partners gathered at a resort in this southwestern town. "This has to do with the fact that we have our redesigned models, plus a network of dealers that have made investments to put the brand where it is."
Meanwhile, Abiezer Rodríguez, sales director for Kia Motors Puerto Rico, said last year's growth is "not exclusive" to Puerto Rico.
"On a global scale, Kia has spent several years achieving consistent and aggressive growth, becoming one of the fastest-growing manufacturers worldwide," he said, noting that Kia registered a 19 percent improvement year-over-year in 2011.
Puerto Rico's performance fueled the region's results, which grew at a pace of 34 percent, Rodríguez added.
"Our region has shown the greatest growth for four consecutive quarters, and we know we contribute significantly to that achievement," he said.
For Kia, taking the fifth position among the island's best-selling automakers would cap off several years of upward movement. In 2008, Kia occupied the 11th place, moving up a notch the following year, and to 8th place in 2010, after launching its best-seller, the Kia Soul. Last year, Kia placed sixth on the list.
Kia Rio: Redesigned inside and out
Over the weekend, News is my Business was one of several local media outlets given the opportunity to test drive the Kia Rio four-door sedan, taking it on a 125-mile trek from Bayamón to Guánica through highways, hills and regular traffic.
The vehicle — available in three trims: LX, EX and SX in four- and five-door models — embodies a combination of a sleek, aerodynamic exterior and a powerful 1.6L, 16-valve engine that accelerates so smoothly it virtually forces the driver to keep a close watch on the speedometer. Its suspension system, MacPherson struts in front and a coupled torsion beam axel in the rear, makes for a smooth ride even on the bumpiest of roads
Kia's proprietary "Gasoline Direct Injection" fuel system, which comes standard in the Rio, produces impressive efficiency, clocking in at about 40 miles per gallon — a significant output since saving at the pump is an important consideration when buying a car.
Once behind the wheel, several built-in features complement the Rio driving experience in ways that are meant to make the owner forget they have purchased a subcompact vehicle. For one, there is the issue of roominess: there is enough of it to go around, both for passengers in front and in the back.
Meanwhile, details such as cruise-control, sunroof and Sirius XM digital radio options are available on the pricier models, which make a case for perhaps spending a little more for the additional features.
Local Kia executives are expecting Rio to represent about 25 percent of overall sales, both in the four-door and five-door models. Rodríguez said the projection is to sell 3,000 units in Puerto Rico this year.