Labor: Puerto Rico loses 11K jobs YOY in Feb.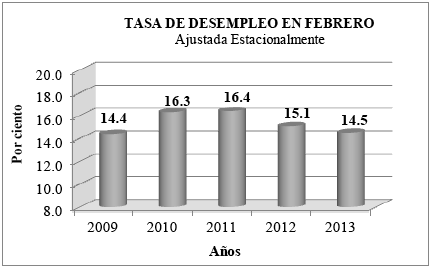 Puerto Rico's unemployment rate showed a slight drop in February, settling at 14.5 percent, or 0.1 percentage points below the 14.6 percent the Labor Department reported for January.
According to the report, there were 1,028,000 people working in February 2013, a reduction of 1,000 employees when compared to January 2013, and a decrease of 11,000 workers when likened to February 2012, Labor Secretary-Designate Vance Thomas said.
The agency's report showed that 56.1 percent of those who were jobless in February reached that status involuntarily, and do not expect to be called back by their former employers. About 42 percent of people have been without a job for five weeks or less, 31.2 percent, between five and 14 weeks, and 26.8 percent for 15 weeks or longer.
In terms of self-employment, the latest report also shows that about 162,000 people were on their own in February, representing a jump of 1,000 people when compared to January 2013, but down by 10,000 when compared to February 2012.
Despite a slight improvement in the jobless rate, the size of Puerto Rico's labor force continues to shrink at an alarming rate, settling at 41.2 percent in February 2013. About 1.7 million people were not working in February, up by 16,000 year-over-year, the report shows.
This year's survey is being done for these statistical reports was calibrated using the Puerto Rico Planning Board's population and housing census as reference. The Labor Department also applied new independent controls of population by sex and age group to ensure reliability, he said.
The new procedure responds to collaborative agreements between the Puerto Rico Labor Department and the U.S. Bureau of Labor Statistics.
"As we promised from the first day we were appointed, we will tell the truth about the employment situation and will continue joining efforts to improve and contribute to the creation of new jobs and improve the quality of life of our people," Thomas said.
The next unemployment report will be published April 19.