Liberty opens free high-speed Wi-Fi hotspot in Yabucoa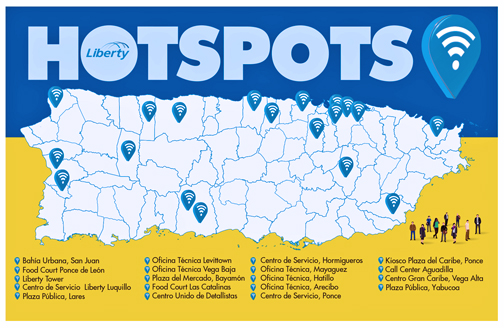 Liberty Puerto Rico has activated a free high-speed Wi-Fi Internet hotspot in Yabucoa to provide internet connection to the people of that municipality while the company completes infrastructure repairs in that area, it confirmed.
The hotspot antennas are located at the town's public plaza, but the Wi-Fi connection is provided by the nearby Farmacia Feliciano. The hotspot is currently operational and available 24 hours a day, seven days a week.
"Even though we have had great strides in the repair of our infrastructure, there are some areas which suffered massive devastation where there is still a low percentage of service. Unfortunately, Yabucoa is one of those municipalities, but we believe this hotspot will provide a good Internet connection while the repairs are completed," said Naji Khoury, president of Liberty Puerto Rico.
The Yabucoa hotspot does not require a password to obtain access. Furthermore, users will be able to engage in activities that demand a higher amount of bandwidth such as downloading video material and handling content-heavy websites.
Liberty continues to run free Wi-Fi hotspots throughout the island. The spots that are currently available in the metro area are Bahía Urbana in San Juan, the Food Court at #268 Ponce de León Ave. in Hato Rey, in front of the Liberty Tower Customer Service Center in Hato Rey, in front of Liberty's Technical Office in Levittown, and the Market Square in Bayamón.
Other hotspot locations include the area in front of Liberty's Customer Service Center in Luquillo, in front of Liberty's Technical Office in Vega Baja, Centro Gran Caribe in Vega Alta, the parking lot area in front of the Food Court at Las Catalinas Shopping Mall in Caguas, the Call Center in Aguadilla, Liberty's Customer Service Center in Aguadilla, the Technical Offices in Mayagüez, Arecibo and Hatillo, the Customer Service Center at Ponce Mall, Liberty's kiosk at Plaza del Caribe Mall in Ponce and the Public Plaza in Lares.
In addition, Liberty Business runs a hotspot for the United Retailers Association (known for its Spanish acronym CUD), which is set up exclusively for businesses. This hotspot is located at the CUD's offices in Hato Rey and operates Monday through Friday from 9 a.m. to 5 p.m.