TRB 'vigilant' over manhole cover theft streak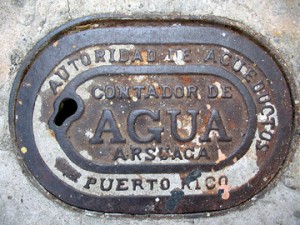 Telecommunications Regulatory Board President Sandra Torres said the agency will continue cracking down on copper theft, including going after those who have recently taken up the habit of stealing manhole covers belonging to the Puerto Rico Aqueduct and Sewer Authority.
Her statement came as a reaction to the recent arrest of three women who were caught with four covers stashed in the trunk of the vehicle they were driving, not an easy feat, considering each lid weighs about 80 pounds.
"Each time one of these covers is stolen, it creates a serious risk and a safety problem for motorists and pedestrians in addition to the loss of public funds that it causes to PRASA, which is forced to replace them," she said.
For the better part of the last two years, the TRB has headed a task force of agencies dealing with the copper theft issue, which she said has been "noticeably reduced." The group includes staff from the Police and Justice Departments, the Consumer Affairs Department, the Treasury Department, PRASA, the Puerto Rico Electric Power Authority, the Environmental Quality Board, the Public Service Commission and Claro de Puerto Rico.
"We have already significantly reduced the theft of copper from telephone cables and we will not falter in our responsibility of ensuring that the new practice of taking the manhole covers is eradicated," the public official said, urging citizens to report incidents of copper theft.
Free wi-fi in Vieques
In related news, more than 5,000 residents of the island municipality of Vieques will now have access to free wi-fi, as part of the government's ongoing effort to close the digital divide. Free Internet is now available at the Vieques town square, Torres announced during a recent trip to Vieques.
"This new service will positively impact the municipality of Vieques and its residents, opening a range of opportunities for them to buy and sell goods and services online, find employment opportunities and request government certifications, among many other things they can do," she said.
The TRB has set aside $3 million to establish free wi-fi access in each of the island's 78 municipalities. So far, the agency has inaugurated Internet-ready centers in Manatí, Moca, Toa Alta, San Sebastián, Aguada, Gurabo, Juana Díaz and Loíza.
Nine more centers are in the pipeline and 50 applications from other municipal governments are pending, she said. The TRB is also working on establishing free public hotspots in six more town squares, to reach a total of 30 this year, Torres said.