Agencies join to battle $5M-a-year copper theft problem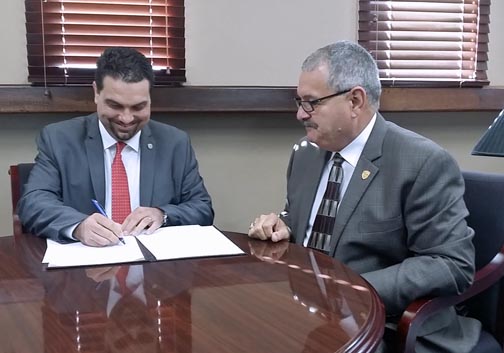 The Puerto Rico Telecommunications Regulatory Board and the Puerto Rico Police Department signed an agreement Monday to step up the fight against copper theft, which represents about $5 million in annual losses for public and private sector companies.
"The [TRB] has primary jurisdiction over all of Puerto Rico's telecommunications services. Similarly, it is legally obliged to intervene in any proceedings that may affect telecom services in Puerto Rico, while guaranteeing the enjoyment of such service without fear of interruption or unreasonable interference, and that were to occur, they must be addressed and corrected as as soon as possible," said TRB President Javier Rúa-Jovet, during the signing of the agreement with the public security agency headed by Superintendent José Caldero.
Copper is a metal used in wires supplying energy and essential telecom services, among other uses. Given its many uses, and due to rising global demand for this metal, its price has increased substantially.
This increase has in turn resulted there being a rapid increase in metal theft in Puerto Rico bringing about high and substantial costs that are extremely costly to the government, including municipalities, public corporations and private enterprise in general, the TRB said.
Since 2009, public and private sector operations have lost a collective $26 million as a result of copper theft, the TRB confirmed.
Law 41 of June 1982 was passed to classify copper theft a crime and establishes fines and penalties for violating the act. The law places the responsibility of curbing metal theft — including copper — on the Police Department.
The agreement between the TRB and the Police Department is part of the government's strategy to guarantee that inevitable service interruptions are addressed as quickly as possible.