Blizzard cripples air travel; grounds 27 P.R./US flights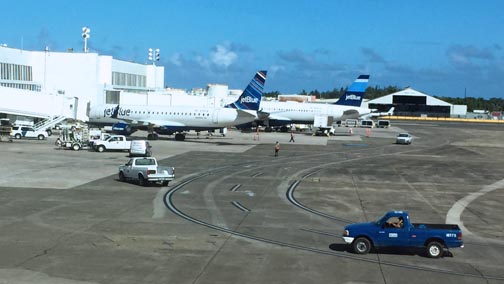 The massive blizzard that is clobbering the northeastern United States crippled air travel between Puerto Rico and that part of the mainland Monday, when 27 inbound and outbound flights at the Luis Muñoz Marín International Airport were grounded by mid-afternoon.
Carriers American Airlines, Delta, jetBlue and U.S. Airways canceled flights to and from New York's JFK Airport, Boston, Newark, Fort Lauderdale, Philadelphia and Orlando, the Puerto Rico Ports Authority and Aerostar Airport Holdings, which operates the LMM, said in separate reports.
For its part, United confirmed it had canceled a flight between San Juan and Newark on Monday and grounded three flights between San Juan and Houston (1157) and San Juan and Newark (1216) today, as well as a flight (1162) between Aguadilla's Rafael Hernández Airport and Newark.
The severe weather conditions associated with the blizzard began affecting the tri-state area of NY, NJ and CT early Monday afternoon. The storm is expected to taper sometime today, after dumping as much as three feet of snow in some areas.
The Ports Authority and Aerostar officials urged travelers to check their flight status with their carriers. Meanwhile, the airlines were offering stranded passengers the opportunity to rebook travel, waiving change fees that would otherwise apply.
Both jetBlue and American Airlines informed via their websites that customers could rebook their flights for travel through Feb. 1. jetBlue and Delta also confirmed that customers with canceled flights could opt for a refund.
More cancellations are expected today.