Lufthansa Technik to open $57M Aguadilla service center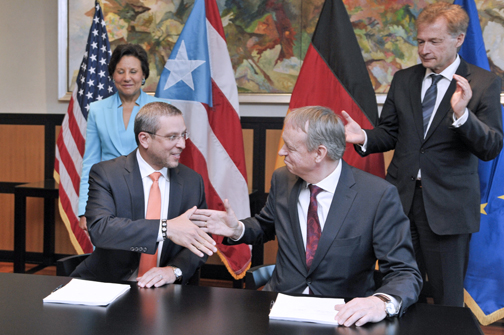 Lufthansa Technik and the Puerto Rico government announced Thursday an agreement to create a new $57 million aviation maintenance, repair and overhaul facility in Puerto Rico, which will service short-haul and medium-haul aircraft.
The announcement and signing of the agreement took place in Washington, D.C., where Gov. Alejandro García-Padilla and Lufthansa officials confirmed the new hangar will be located at the Aguadilla Rafael Hernández Airport. The company plans to start work in the next three months on the construction of the new facility.
"We are very grateful to establish with our partner a new overhaul facility in Puerto Rico. Lufthansa Technik Puerto Rico will be a very important element in the long-term strategy of Lufthansa Technik's presence in the American market," said August Wilhelm Henningsen, CEO of Lufthansa Technik.
The new company, Lufthansa Technik Puerto Rico will take advantage of the airport's 11,700-foot runway and 3,900 acres of land. The opening is expected to take place in 2015, officials said.
"This exciting partnership with Lufthansa Technik will create hundreds of high-skilled jobs and will be a cornerstone of the aviation industry we are developing in Puerto Rico," García-Padilla. "With its decision to locate this facility in Puerto Rico, Lufthansa Technik joins a growing list of international companies that are investing in Puerto Rico in recognition of our favorable business climate and geographical advantages."
The company will employ up to 400 workers and run a total of five overhaul lines. Initially it will operate two lines for Airbus A320 C-checks and D-checks.
"What companies like Lufthansa are realizing is there has never been a better time to invest in the United States," said U.S. Commerce Secretary Penny Pritzker. "With assistance from our SelectUSA team, we were able to assist communities in Puerto Rico that are ready for investment, and — across the globe — help a great company, Lufthansa, invest in the United States. By helping build strong partnerships like this one, we are able to create jobs, spur economic growth, and promote American competitiveness around the world."
Business already lined up
In anticipation of the project, Lufthansa Technik has received commitments from two major airlines for overhauls at the new site — one of which is JetBlue.
"This is very exciting news for Lufthansa Technik, the Commonwealth of Puerto Rico, and for JetBlue as well," said JetBlue CEO Dave Barger. "As the largest airline serving the people of Puerto Rico, we are honored to support and endorse Lufthansa Technik's plans to build a heavy maintenance base in Aguadilla, and we are very happy to be one of the first airlines to be serviced there when it opens."
"The people of Puerto Rico, led by Gov. García-Padilla, will benefit from this investment with job creation and an economic boost to the region. JetBlue is better served as well, with an additional heavy maintenance business partner located in the Caribbean, where approximately 30 percent of our network operates. We wish Lufthansa Technik well and we look forward to opening the facility," Barger said.
The deal between Lufthansa Technik and Puerto Rico expands the island's footprint in the aerospace industry, creating high-skilled jobs in a fast growing sector of the world's economy.
So far, the island's engagement with that sector has been centered in software development operations through partnerships with companies including, Honeywell, Infotech, Lockheed-Martin, ESSIG Research, Florida Turbine and Axon.
The selection of Puerto Rico offers an opportunity for Lufthansa Technik to take advantage of the large talent pool of engineers and aircraft mechanics produced by Puerto Rico's educational programs. Furthermore, Lufthansa Technik has made the commitment to train additional personnel through its subsidiary, Lufthansa Technical Training, in partnership with the University of Puerto Rico and the Education Department.