ManpowerGroup survey: Employer hiring outlook drops 6%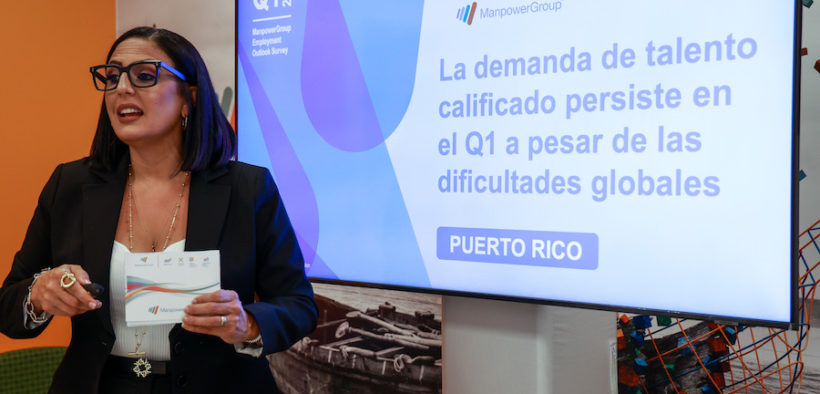 A recent survey released by staffing firm ManpowerGroup revealed that the net employer hiring outlook in Puerto Rico for the first quarter of 2023 is of 26%, a slight decrease of 6% compared with the previous quarter, ManpowerGroup for Puerto Rico and the Dominican Republic's general manager, Melissa Rivera Roena, said in a roundtable with reporters.
ManpowerGroup Employment Outlook Survey has been conducted for 61 years. This latest iteration was of 38,000 employers in 41 countries and territories. This is the second time the survey was carried out in Puerto Rico, Rivera noted.
The executive explained that the survey results highlight that 41% of some 500 employers consulted plan to increase their workforce from January through March, while 15% expect a decrease in staffing, 37% plan to keep their workforce steady and 7% are undecided.
"We believe that the slight drop in observed hiring intention responds to a stabilization of the market after Christmas season sales," Rivera said. "However, it is very positive that in the midst of an inflation and on the verge of a recession, employers in Puerto Rico have a 41% intention of hiring employees."
The energy and public service sectors, meanwhile, stand out with the greatest demand for hiring, at 47%, followed by the technology and health care industries at 34% each.
The survey further highlights that the strongest hiring trends over the next quarter should take place in the San Juan metro area (59%) and in the southern region of Puerto Rico (42%).
Meanwhile, employers still face challenges when it comes to finding talent, particularly in the technology, energy, government and health care sectors, among others.
"So, what do we suggest? At the beginning of the pandemic, we sat down and analyzed this," Rivera said. "Services have to continue being offered, production lines have to continue, the world has to continue operating. So, with less talent the challenge for us is how do we address the lack of talent."
Rivera said that other traits should be evaluated when looking for talent to fill positions.
"What is needed in the market are soft skills. This is very interesting: self-discipline, trust, collaboration and teamwork are soft skills that are needed in the sectors that are lacking talent," Rivera stressed.
Critical thinking and creativity are also soft skills that recruiters should consider when evaluating possible candidates for a job post.
"We are seeing that thanks to our insistence, when we created the study on jobs and lack of talent, we can now say that the good news is that there are academic institutions, universities in Puerto Rico that are opening curriculums to evaluate or study soft skills."
When asked by News is My Business what recommendations she has for employers that cannot find talent in certain sectors, such as technology, Rivera replied: "We need to go to the educational sector."
"And we need to create more creative programs, we have to be a lot more creative when educating," she added. "We have to go to educational institutions and create plans there as well. We do this when we offer talks in universities…. Remember what you study today, in five years it has to be modified."